Your Ultimate Guide to the Best Napa Valley Scenic Views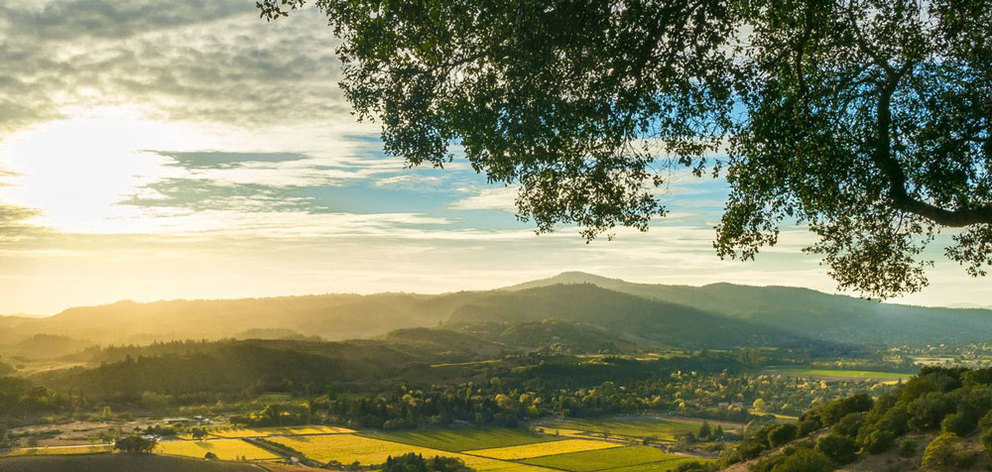 Napa Valley's stunning landscapes add to its enchanting experience. The vineyards' spread of greenery has transformed the scenery throughout the years. Rolling hills, picturesque meadows, and dense forests make up the rest of Wine Country's terrain. From beautiful wineries to Wine Country Inn & Cottages ' own property that includes lush landscape, open lawns, and shaded nooks, there are plenty of Napa Valley scenic views. Spend the day relaxing at a vineyard with a scenic tasting room, or embrace adventure and embark on a hike with breathtaking views as reward.
For more things to do in Napa Valley, read our Napa Valley Attractions Guide. With such a beautiful landscape, many of these excursions include Napa Valley scenic views!
Wineries with Napa Valley Scenic Views
Duckhorn Vineyards
Just a one-minute drive or seven-minute walk away from The Wine Country Inn & Cottages , Duckhorn Vineyards is an ideal local attraction to tour and explore during your vacation. Not only does it offer decadent tastings and tours, its grounds offer picturesque scenery visitors crave. Take a quiet stroll through their gardens or relax on their tasting patio with views of the beautifully kept grounds.
Castello di Amorosa
Castello di Amorosa is a Tuscan-style castle tucked away in the corner of a forest surrounded by its sprawling vineyard. Play king and queen for a day when you take a guided tour of the castle, complete with a wine tasting. When you are in the highest turret of the castle, relish in the expanse of greenery below.
Sterling Vineyards Aerial Tram
Sterling Vineyards offers an incredibly unique Napa Valley scenic views experience. The winery and tasting room is located on top of a hill, so an aerial tram was constructed as transportation. This one-of-a-kind experience gives guests incredible views of the surrounding hills and valleys from an unobstructed perspective. Once guests reach the top, the view gets even better. The stucco tasting room commands a breathtaking view of the valley's vineyards on all four sides.
Hikes with Napa Valley Scenic Views
Oat Hill Mine Trail
The Oat Hill Mine Trail offers a taste of history and amazing views. Originally created as a road to access a mine, this 5-mile hike quickly soars above Napa Valley. You will alternate between forest and clearings providing spectacular views of Calistoga from above. View vineyards in the distance as you breathe in fresh, hilltop air.
Moore Creek Park
Moore Creek Park offers 15 miles of trails, perfect for a leisurely stroll through Napa Valley scenic views or a day-long hike. Out of all the trails at the park, the Lake Hennessey Shoreline trail is a favorite. Many of the trails have overlooks to the lake, but this particular route follows the contours of the lake for fantastic views from its shoreline.
Skyline Wilderness Park
Skyline Wilderness Park has over 25 miles of trails for hiking, biking, and equestrian use. From certain trails, you can see San Francisco Bay, Mt. Tamalpais, and Mt. Diablo. Many pathways are through the open southern foothills where you can see expanses of green, towering distant mountains, and endless blue sky.
Alston Park
Alston Park covers 157 acres of the remote rolling hills of northwest Napa. It includes flowing creeks and wildflower-lined trails. The Redwood Canyon offers a Napa Valley scenic overlook. From there, you can see sweeping vistas of the city of Napa and Napa Valley. Because of the hilly nature of the hike, the paths on higher elevation offer Napa Valley scenic views of the park itself.
Our Beautiful Napa Valley Inn Boasts Stunning Views
You don't even have to leave Wine Country Inn & Cottages to see Napa Valley scenic views. With mountains on one side and vineyards stretching for miles on the other, our unique St. Helena resort is the perfect Napa Valley destination for a scenic getaway. Soak up some sun by our outdoor pool and take in the views, or enjoy the scenery from the windows of your
Wine Country Cottage!
A spectacular escape in the heart of Wine Country awaits.