Why You Have to Visit the Culinary Institute of America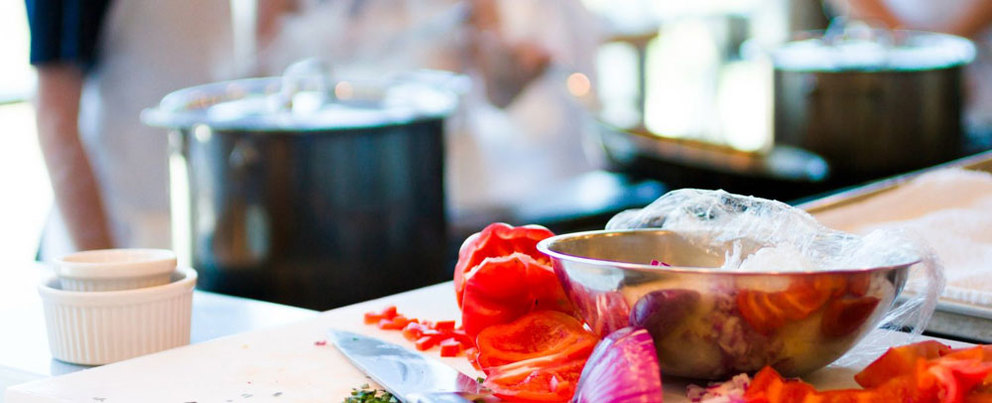 When you visit Napa Valley, you will experience amazing vineyards and wineries plus fine food. Chefs come to Wine Country from all over the world to practice their craft, producing delectable dishes with the region's ingredients. This culinary mecca is completed by the Culinary Institute of America. This school spans across 2 campuses, one in St. Helena and one in Napa. This food lover's paradise not only offers classes and degree programs for professional cooks but also individual classes you can take to learn about cooking and wine while you are staying at the Wine Country Inn & Cottages !
If you are interested in Napa Valley cuisine, read our Napa Valley Dining Guide. Our helpful staff at Wine Country Inn & Cottages are also always willing to recommend an array of mouth-watering restaurants, no matter what you're craving!
Culinary Institute of America Classes
Hands-On Classes
The hands-on classes at the Culinary Institute of America range from private classes with friends to themed programs in the state-of-the-art teaching kitchens. If you're traveling to Napa Valley with a group, then the private classes may be for you! The chef will fully customize the class to the topic and format of your choosing.
Another option are the hands-on baking and cooking classes. These small classes are perfect for sharpening your kitchen skills! In these two and a half-hour interactive cooking classes, your chef-instructor will focus on a specific culinary subject and teach you important techniques for the home chef. Each class concludes with a meal and wine! Check the class calendar to see which are available during your stay at Wine Country Inn & Cottages .
Interactive Demonstrations
The Culinary Institute of America offers interactive demonstrations in their Napa Valley Vintners Theater. These classes range from chef demonstrations to wine tastings. The wine classes are a great start to any Napa Valley vacation; many teach how to properly taste wines as well as pairing different wines with meals. This is all handy information for a stay in Wine Country!
Experience the Culinary Institute of America's Restaurants
Gatehouse Restaurant
The Gatehouse Restaurant offers a prix-fixe dinner menu Tuesday through Saturday. The restaurant is run by the Culinary Institute of America students, attending a meal there a truly special experience. After two years of rigorous culinary, baking and pastry, hospitality and beverage management instruction, students finally get the chance to prove themselves at the Gatehouse Restaurant. They use fresh regional ingredients as well as those from their own farm and herb gardens to create fresh, contemporary dishes to serve in this refined yet casual dining room.
The Bakery Cafe by illy
If you are paying a visit to the Culinary Institute of America, you absolutely must stop by the Bakery Cafe by illy. As soon as you walk in, you will not be able to resist the intoxicating aroma of freshly baked goods! Pop in for a beverage and a pastry, or stay for lunch. The cafe will even back your meal to-go so you can enjoy it during your travels through Napa Valley.
Shopping at the Culinary Institute of America
The Culinary Institute of America's Spice Islands Marketplace is the best place to find cooking ingredients, cookware, bakeware, kitchen tools and utensils, as well as cookbooks. You'll likely work up an appetite while you're shopping, so take advantage of the opportunity to visit the Tasting Bar at Spice Islands Marketplace. Here you'll be able to taste charcuterie, cheese, chocolate and olive oils, as well as enjoy wines by the glass!
Stay at the Wine Country Inn & Cottages
The Wine Country Inn & Cottages is the perfect home base for an unforgettable Wine Country vacation or weekend getaway. Our boutique hotel has evolved from the Napa Valley's very first bed and breakfast inn into a magnificent antique-filled boutique hotel surrounded by vineyards and secluded at the end of a country lane. Relax in luxury in one of our
elegant cottages, suites or rooms
and enjoy a
delicious breakfast
each morning!