Why is Sterling Vineyards the Place to Be?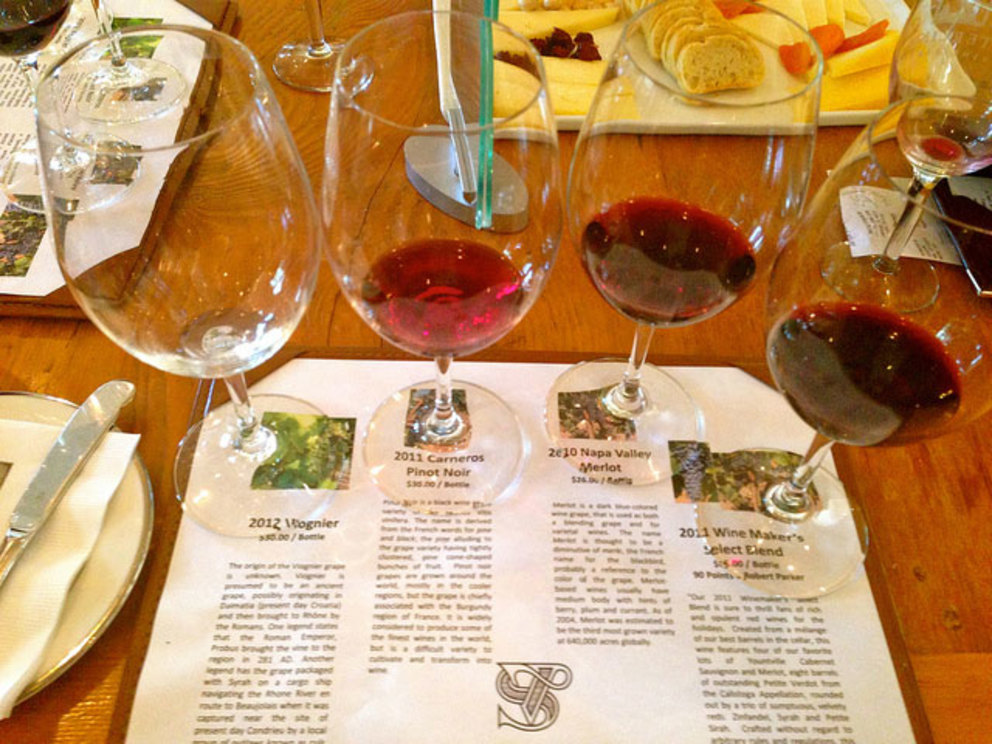 Visitors come from all over the country to Napa Valley to get a taste of locally made wines, to see the picture perfect vineyards and create memories with a loved one that will last for many years to come. A trip to Sterling Vineyards in nearby Calistoga is a must when you're in the area. It offers the only aerial tram of its kind in Napa Valley that affords stunning views and the reward of a welcoming glass of wine upon arrival.
Plan Your Visit to Sterling Vineyards in Napa
Sterling Vineyards is just a quick 15-minute ride from the
Wine Country Inn & Cottages in St. Helena
. Plan to enjoy a delicious breakfast at our romantic Napa Valley bed and breakfast before you head out for an afternoon of exploring and wine tasting at this unique vineyard.
When you first arrive, you'll park at the bottom of a hill and step on an aerial tram car for a scenic ride to the top. During your journey, you'll quickly notice the architecture of the winery, which was modeled after buildings on the Greek island of Mykonos. You may also hear bells tolling. Look for them in the bell towers (there are 8 of them!) and listen for them to chime every quarter hour. The bells have a history, as they were once in St. Dunstan's Church in London.
Upon reaching the top, you'll find that there are a few ways for you to experience this award-winning vineyard, which spans 300 acres. Choose from a self-guided tour or the Sterling Silver Experience. Each option includes a variety of wine tastings.
The self-guided tour, at $29 per person, allows you to tour the lower portion of the winery at your leisure, stopping to enjoy different tasting stations along the way as well as take in the scenic views. If you choose to upgrade to the Sterling Silver Experience, you'll enjoy a self-guided tour with 5 wine tastings, access to a beautiful art gallery featuring original artwork by some of the "Greats," and an additional seated wine tasting with three reserve wines.
Picaso and Sterling Vineyards
Some of the artwork you'll view on the Sterling Silver Experience includes original pieces by Picasso, Chagall, Renoir, Frasconi and an Ansel Adams Photographic essay, "The Story of a Winery."
The Wine at Sterling Vineyards
The award-winning wines made at Sterling Vineyards feature grapes that are grown at a variety of vineyards in Napa Valley as well as other locations in California. The diversity in vineyard sources gives each wine a different character and individual personality. With more than 20 classic varietals, you will certainly find the perfect vino to enjoy on the spot, during a special evening at the Wine Country Inn & Cottages, or to take back home and enjoy as you reflect on your trip to Napa Valley!
It's always a good idea to have a little nibble when you're tasting wine and Sterling Vineyards offers beautiful Cheese and Charcuterie Platters featuring locally sourced ingredients prepared by gourmet chefs. We highly recommend the Sterling Vineyards Cabernet Sauvignon or Sauvignon Blanc.
Don't Miss These Events at Sterling Vineyards
Sterling Vineyards hosts a
Harvest Party and Grape Stomp
each September that includes a grape stomping competition and a pumpkin carving contest. Sterling pits itself against its sister winery, Beaulieu Vineyards, for this fun (and maybe a little messy) event. Wine, delicious barbecue and live music combine to create an event you won't want to miss! This year's event will be held Sept. 20, 2015.
If you want to really get into the art of winemaking, you'll want to partake in the Grape Stomp Experience. Kick off your shoes and hop barefoot into real wine barrels to squish grapes harvested from Sterling Vineyards! The Grape Stomp only happens from mid-August through the end of October, so don't miss your chance to celebrate the harvest and be a part of the winemaking process!
Where to Stay in Napa Valley
After a day of visiting Sterling Vineyards and other excellent wineries like Robert Mondavi winery and experiencing all that they have to offer, come back to the Wine Country Inn & Cottages where you can relax in one of our
luxurious rooms or cottages
and enjoy a fresh, gourmet breakfast each morning.
When you're planning a trip to the Napa Valley area, St. Helena in particular, be sure to download our Napa, California Vacation Guide. Whether you're looking for adventure, a peaceful weekend for some "me time," or a romantic weekend with the one you love, Napa Valley offers a variety of options for things to do, see and experience. Let us at the Wine Country Inn & Cottages serve as your home base during your stay. We look forward to seeing you!
Photo Credit: Sarah_Ackerman / Flickr