Where to Eat French Food in the Napa Valley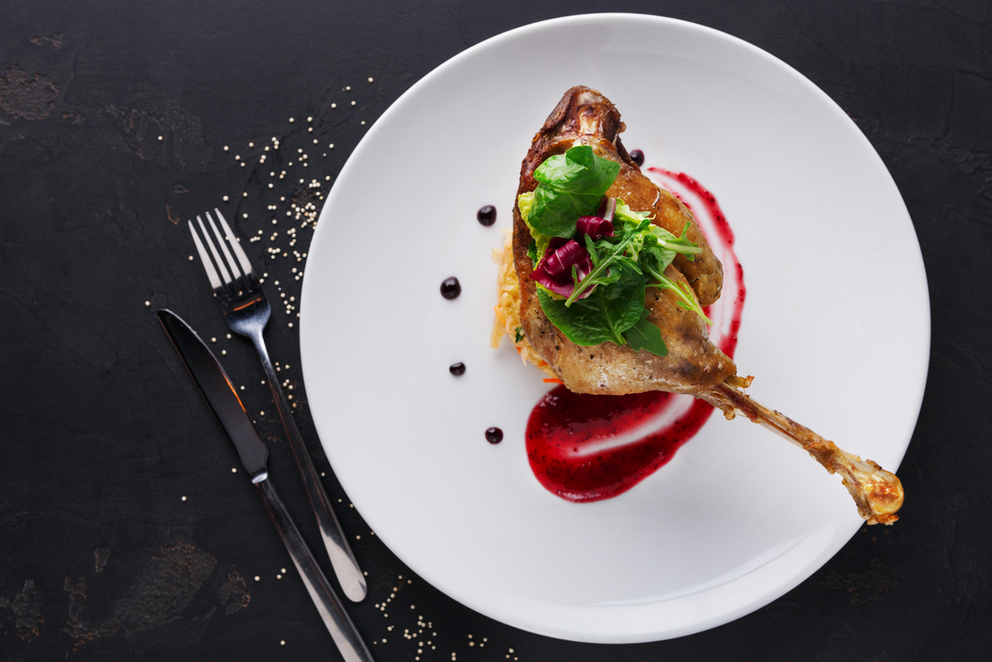 It's argued that no other cuisine pairs with wine quite as well as the balance and flavors of French food. So it's no wonder that wine country is packed with French bistros, brasseries, bakeries, and fine dining eateries. From escargot to crème brûlée, here's our definitive list of where to find French cuisine in the Napa Valley.
Chef Philippe Jeanty brought his Champagne upbringing to the Napa Valley to create one of wine country's most beloved French restaurants. His traditional French bistro has received numerous accolades and awards since it opened its doors in 1998. Try one of the lighter menu items, like the Escarole salad with a soft-boiled egg and warm apple smoked bacon vinaigrette, so you can splurge on one of the delicious fromages. We recommend the Époisses, a full-flavored, creamy cheese from Burgundy, with a sauternes (Bordeaux sweet wine) poached pear. 6510 Washington St, Yountville
Not much more can be said about this Thomas Keller destination. Once called the "best restaurant in the world" by Anthony Bourdain, the Michelin-starred restaurant is the most recognized in all of the Napa Valley. Expect to shell out quite a bit of cash for a chance to savor the coveted multi-course Chef's Menu, which changes daily. 6640 Washington St, Yountville
Impressed by The French Laundry? You don't have far to look for another Thomas Keller establishment. A short walk will bring you to Bouchon Bistro, a slightly more casual eatery. And although the menu changes with the seasons and availability, expect French staples like roast chicken, trout amandine, and leg of lamb. Save some room for the Bouchon Bakery, located right next door to the bistro. Brave the long line and pick up pastries, cookies, breads, and other desserts to go. 6534 Washington St, Yountville
[The Best Places for Fine Dining in Yountville]
Dine on the Promenade overlooking the scenic Napa River. The riverfront bistro is located in a historic 1890s ship chandlery and serves up classic French fare like steak tartare, foie gras, and roasted duck breast. After enjoying the butterscotch bread pudding with bourbon ice cream, take a stroll on the Napa River Promenade. 540 Main St, Napa
Try the five-course menu and add wine pairings for the savory dishes. Opt for the dessert wine pairing to cap off the night. Go all out at this downtown Napa "New French" cuisine restaurant. We promise that their culinary masterpieces and their expert sommeliers will leave a lasting impression. 1314 McKinstry St, Napa
Although Grace's Table isn't exclusively French, you can expect to find delicious French dishes at this "global kitchen" in downtown Napa. Try the roasted young chicken with garden ratatouille, or the Cassoulet duck confit, with boudin blanc sausage. 1400 2nd St, Napa
French-inflected Vietnamese cuisine? Sure, we'll try it. Think duck confit – but in rice paper wraps stuffed with vermicelli. And think roasted duck – but in a red curry sauce. End your meal with crème brûlée with refreshing kaffir lime flavors. Chef and owner Patrick Bui's Vietnamese-French fusion restaurant is not to be missed. 976 Pearl St, Napa
[The Best Places for Fine Dining in St. Helena]
Visit the casual French and Creole eatery for bistro favorites like croque-madame and Coq au Vin. Try one of their handcrafted cocktails, like the French 1226, with Ginny's gin, lemon, elderberry, and champagne. Evangeline is chic and charming, but make sure to dine al fresco on their beautiful shaded patio. 1226 Washington St, Calistoga
For superb French cuisine with a creative menu, try Véraison in downtown Calistoga. With a keen attention to detail, their authentic French cuisine is always cooked to perfection. Browse their extensive wine list and try their housemade charcuterie and artisan cheeses. 1457 Lincoln Ave, Calistoga
--
The Napa Valley is a culinary destination for any French food lover. Let us help you book your culinary adventure. The Wine Country Inn has the perfect vacation package for your wine country getaway.