Where is the Best Napa Wine Tour?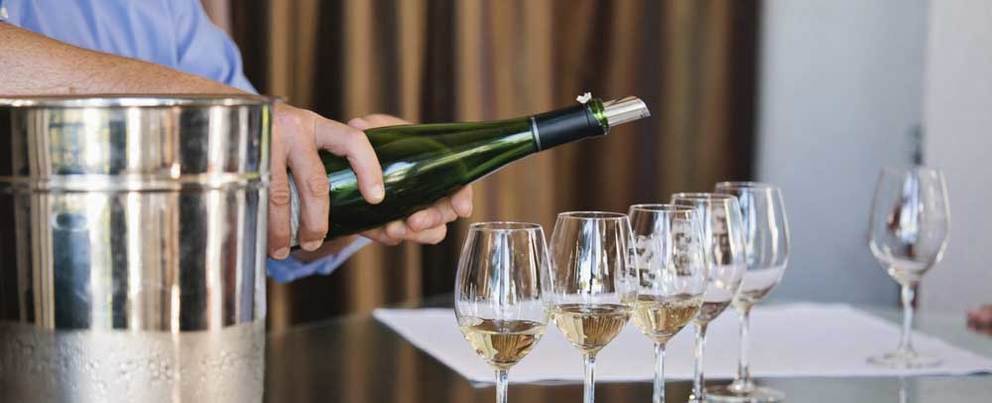 There are so many ways to enjoy a Napa wine tour in the valley. Whether you're interested in biking from one winery to another, taking the train, going with a group on a trolley, or navigating the scenic area in your own car! Many of our guests at the Wine Country Inn & Cottages have said (and we have to agree) that the Wine Country Inn & Cottages's Napa Wine Tour is the best, as it offers an incredible opportunity for you to sit back, relax and truly enjoy the experience … and the wine!
Wine Country Inn & Cottages's Napa Wine Tour
Whether you are just beginning to learn about wines, or you are a pro, our guided Napa Wine Tours provide
an unforgettable day of great wine
, wonderful food and unparalleled scenery. We take no more than three couples out per day in our Tuscany van and each tour can be customized depending on the guests' requests for that day.
The tour generally sets out about 9:45 – 10:00 a.m. each morning to visit two wineries before returning to the Inn for a light gourmet lunch and a chance to freshen up. We will then reconvene to tour a couple more wineries in the afternoon and return to the inn just in time for the Wine Country Inn & Cottages's own Afternoon Wine Social served every day. Enjoy delicious appetizers and a selection of incredible local wines as you discuss the wineries you visited during the day with your group or other guests! Comparing notes is a wonderful way to learn about additional wineries to visit!
Just to give you a taste, each Napa Wine Tour offered by the Wine Country Inn & Cottages includes:
A knowledgeable tour guide.
An opportunity to visit a number of wineries you probably have never even heard of.
The opportunity to tour and sample three to five wineries (depending on how focused our guests wish to be) with amazingly scenic drives along the way.
Dine on a fun and light gourmet lunch prepared and served by your guide in the comfort of our Common Room.
A chance to connect with other guests and get their perspective on the wines and restaurants you are experiencing.
The price is $260 per couple, plus applicable tasting fees, if any. Driver gratuities are also not included. Please note: Guests must be age 21 or older to go on our Napa Valley Wine Tasting Tour.
Self-guided Napa Wine Tour
Keep in mind that the
Wine Country Inn & Cottages
has established a special relationship with our winery neighbors who have given us free tasting passes just for our guests. So if you do decide to venture out on your own, please be sure to check with our Front Desk first, as we might be able to save you a little money!
Where to Stay During Your Napa Valley Getaway?
As you plan your trip to Wine Country, be sure to download our
Free Vacation Guide
to help you! It contains very helpful information regarding things to do and places to go in Napa Valley, as well as outlines the accommodations we have available right here at the Wine Country Inn & Cottages. Our inn is the perfect home base for an unforgettable Wine Country vacation or weekend getaway. We have evolved from Napa Valley's very first bed and breakfast inn into a magnificent antique-filled boutique hotel surrounded by vineyards and secluded at the end of a country lane. Relax in luxury in one of our
elegant cottages, suites or rooms
and enjoy a delicious breakfast each morning.
Planning a last-minute weekend getaway? Be sure to check our calendar or contact us for last-minute availability!
Photo Credit: Hotaik Sung / iStock / Thinkstock