We Know Where to Find the Best Napa Winery and Caves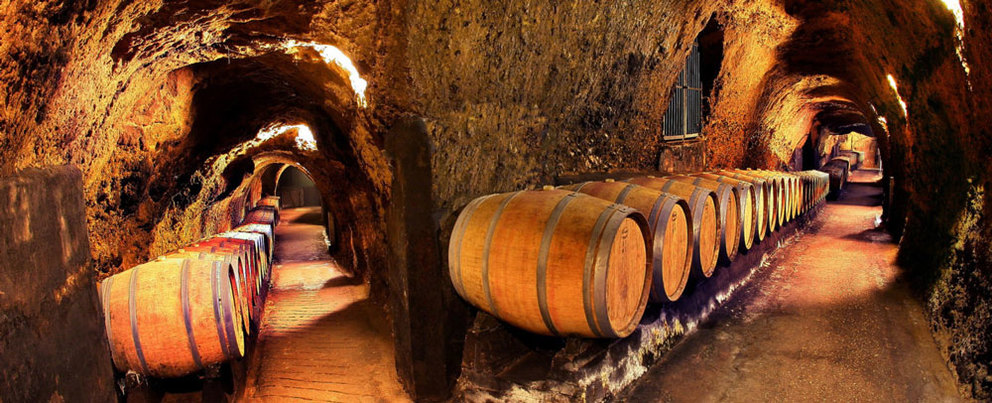 If you're looking for a Napa historic winery and caves, then consider one of the top destinations in the Little Book of Big Experiences. This fantastic value guide to Napa Valley includes Del Dotto Vineyards as a must-see wine cave location. Del Dotto features a unique cave tour and tasting experience you will not soon forget! Along with Del Dotto, there are a variety of other Napa historic winery and caves to see and sample during your stay at The Wine Country Inn & Cottages. Here is a little more about a few of our favorites.
For even more Napa Valley winery recommendations, read our Tasting Experience Guide! It features the best tasting and touring experiences in Wine Country, including some Napa historic wineries and caves.
For the Best Winery Experience…
When you visit Napa Valley, there are so many wineries and vineyards to visit that it can be overwhelming. By narrowing down the particular experience you are interested in, you can discover the best of the best! For a Napa historic winery and caves tour, there are some wonderful destinations that will include quite a unique experience. Along with delicious Napa Valley-grown wine, explore some beautiful wine caves and garner a deeper understanding of the winemaking process. Here are a few of our favorite options when selecting which Napa historic winery and caves to visit.
Del Dotto Napa Historic Winery & Caves
The
Cave Experience and Barrel Tasting
at Del Dotto Vineyards is a truly one-of-a-kind activity to enjoy in Napa Valley. During this experience, you will taste 8 wines in the caves with dark chocolate pairings. Taste the magic of wine produced in oak barrels crafted from the great forests of the world and then cave-aged. Then, after exiting the caves, you will be offered a selection of cheese and housemade salami. After your tour and tasting, explore the rest of the beautiful St. Helena Venetian estate with incredible architectural details.
Rutherford Hill Winery
Just ten minutes away from The Wine Country Inn & Cottages, you will discover the
Rutherford Hill Winery
. Here, you can sip on your glass of wine in luxurious private cabanas and even bring your picnic lunch along to enjoy beautiful landscaping and lovely Napa Valley views. You will also discover a unique tour at this Napa historic winery and caves. The Cave Tour and Barrel Tasting at Rutherford Hill Winery has been selected as
one of the most unique wine tours in Napa Valley
by Visit Napa Valley. Go deep into the gorgeous, romantic caves to sample wines straight from the barrel.
Jarvis Estate Winery
Another unique cave tour and tasting experience awaits at the
Jarvis Estate Winery
. Rated one of Napa Valley's best winery tours by
Food & Wine Magazine
, this experience is extraordinary. Explore the 45,000-square-foot cave and visit the Cuve Gallery as well. This gallery is a collection of one dozen massive oak vessels assembled in the cave by French coopers. The underground waterfall near the end of the tour is quite magnificent as well. It also ensures the humid temperatures that are vital to the wine aging process.
Pride Mountain Winery
Enjoy an hour-long tasting in the relaxed environment of
Pride Mountain Winery
while learning more about mountain grape growing. You can also experience a tasting in a private room for a larger party if you're traveling with a group. If you want to tour and taste, then enjoy a special blended experience. This option includes a guided view of the winery production areas and caves before arriving at the formal tasting salon in one of
the caves
. A more extensive collection of wines is included in this unique, private, and romantic experience!
Schramsberg Winery
During your stay at The Wine Country Inn & Cottages, you will be overwhelmed with the variety of wines to sample in Napa Valley. However, at
Schramsberg Wine
, you will have the niche of sparkling wine to help narrow the spectrum. A one-and-a-half-hour
tour and tasting combination
is highly recommended. This includes a tour of the historic 125-year-old wine caves, an introduction to the classic method of producing sparkling wines, and a hand-selected variety of Schramsberg creations. There is also an option for a lavish wine and cheese pairing and tour.
Discover Your Perfect Wine Tasting Experience With Our Help
There are currently more than 500 wineries in Napa Valley and several kinds of wine tours! Napa Valley is filled with amazing wineries and unique experiences.
The Wine Country Inn & Cottages guest service staff
will offer advice to find the perfect wineries for tasting and touring experiences. Then after your adventure, settle back in at our very own
vineyard resort
for a lovely evening with fantastic Wine Country views.