The Wine Country Inn & Cottages Has New Owners!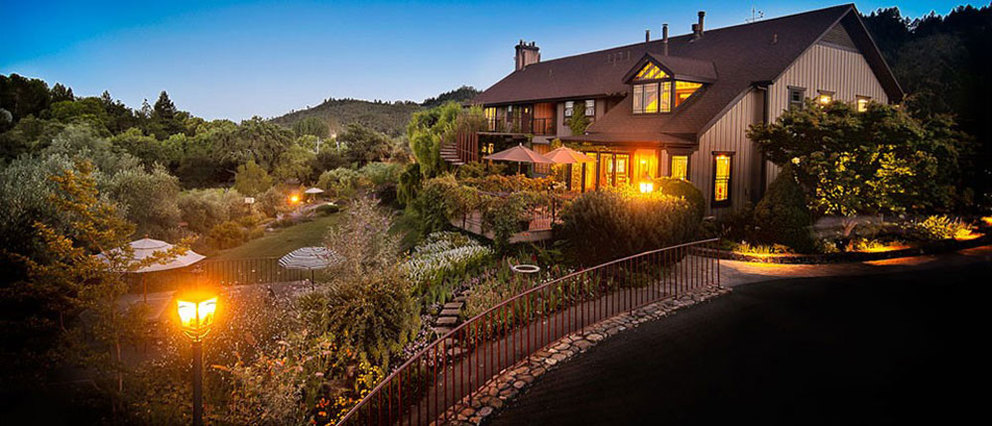 The 29-room Wine Country Inn & Cottages in St. Helena, California, has been sold by its founding ownership, including 40-year innkeeper Jim Smith, to Not A Bad View Here LLC. The hotel was built in 1975 by Jim Smith's father, Ned, and the Inn has become a Napa Valley hospitality fixture since that time.
The Managing Partner of the new ownership entity, Rick Swig, is continuing a legacy of ownership, which formerly included St. Helena's Harvest Inn and currently includes Napa Winery Inn in Napa, California. The Wine Country Inn & Cottages is expected to continue a tradition of the highest quality guest service in an intimate bed and breakfast format, which will be enhanced by a forthcoming renovation of guest rooms and public areas.
"The Wine Country Inn & Cottages is a much respected small hotel, which Jim Smith has nurtured over the last 40 years. There are hundreds of loyal customers, who will be pleased to know that new ownership will continue the Smith Family tradition of personal services in a comfortable and enriching wine country environment," Swig said.
Exciting Plans
New ownership has announced that the Wine Country Inn & Cottages will undergo a significant renovation beginning in late 2016 to renew and upgrade the hotel's reception building and the 14 guest rooms, which are located there. Other improvements will include the building of a massage therapy facility, as well as significant upgrades to general guest service technology.
As of April 1, 2016, the hotel will be operated under the guidance of Deborah Greene, whose Napa Valley host experience includes the Harvest Inn and the Mt. View Inn Calistoga.
"Debbie knows how to provide the ultimate Napa Valley experiences for guests. Her spirit of hospitality has been an asset to the Napa Valley during her previous postings, and now as General Manager of the Wine Country Inn & Cottages, she is certain to make a positive impact on its guests, as well," Swig added.
About the Wine Country Inn & Cottages
The Wine Country Inn & Cottages is a bed and breakfast lodge that celebrates the spirit of the Napa Valley lifestyle of vineyards, winemaking, and beautiful views. The Inn features 29 comfortable accommodations with a mix of traditional guest rooms, lodge villas, and separate cottages, a large swimming pool, and an outdoor seasonal spa facility. Groomed landscaping with multitudes of botanical varietals with open lawns and shaded nooks provide views of hundreds of acres of prime Napa Valley vineyard lands from exterior and interior locations.
The Wine Country Inn & Cottages empowers guests to rest, relax, and rejuvenate in the intimate privacy of this Napa Valley hideaway, where unique architecture meshes with surrounding vineyards for that perfect wine country experience. The Inn is the presents the perfect balance of comfort, quiet, and beauty for a memorable weekend escape, a celebration setting, or a reunion with friends and family.
Positioned between the important wine country towns of St. Helena and Calistoga, the Wine Country Inn & Cottages location is close to a broad variety of recreational, shopping, and dining options. Founded in 1975, the 40-year tradition of the Wine Country Inn & Cottages continues as an important and authentic hospitality location within the Napa Valley, which is all about the experience of wine country life.
The Wine Country Inn & Cottages is located at 1152 Lodi Lane in St. Helena, California. Information about individual guest rooms and reservations can be discovered at winecountryinn.com or by dialing 707-963-7077. The hotel is part of Unique Inns and is a TripAdvisor award winner.