The Beginning of Wine Country Inn & Cottages: A New Excerpt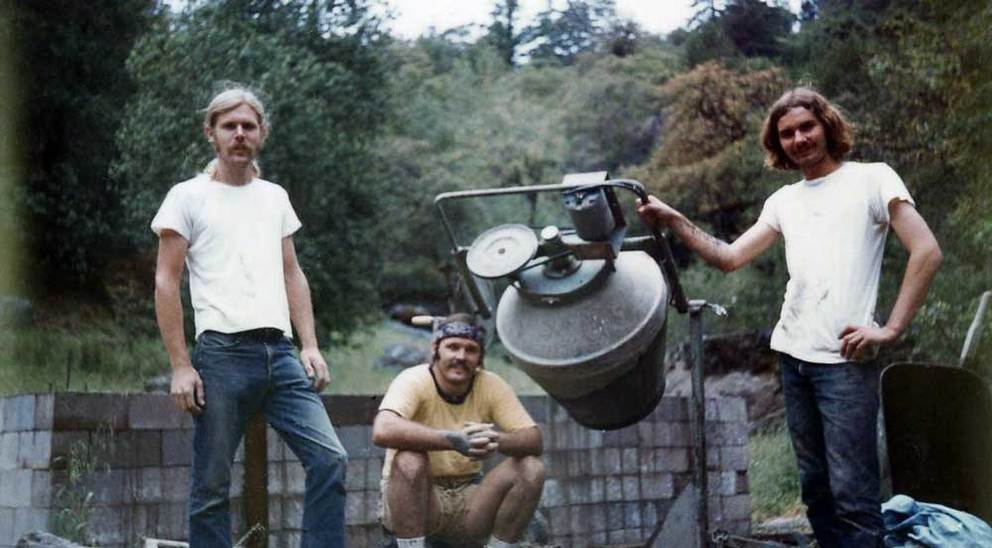 The Wine Country Inn & Cottages opened on August 15, 1975 with 14 individually decorated guest rooms, all decked out in antique furnishings, wallpaper or 100-year-old barn wood on the walls with accents of family-made stitcheries, along with family-made quilts for the beds. My parents, Ned and Marge, had infected the whole family with this new Bed & Breakfast craze and pretty much the whole family jumped into the project.
My mother quit her job as an elementary school remedial reading teacher to head up the decorating crew while my grandmother Nummy, my sister Kate and my then-wife Nita dove into the needlework. Later, when wallpaper and upholstery fabrics were being chosen Mom drafted a neighbor, Sally Tantau, to help her with further decorating. My brother Doug, at age 23, was already a talented carpenter and woodworker so my father approached him to run the construction crew. Since somebody was needed to do the grunt work I was elected for that at age 21. Even my 12-year-old brother Jeff came in most days after school to sweep up the extreme messes that the carpenters always left behind.
Three generations of the Smith family were hard at work, with my father cracking the whip. And of course we all had friends who turned up on our doorsteps looking for work, all of whom had basic skills of one sort or another. Like me, I guess. I didn't have any actual training as a stonemason but that didn't stop my father. When it came time for the stone façade for the building my father elected me as stonemason even though my training consisted only of working high school summers at the family's "ranch" in the wilds of Sonoma County (stories of this fabled place to come), building rock walls to flatten out garden plots or create a little parking.
My father's whole concept was to build something new that looked like it had been sitting atop this knoll in the middle of the Napa Valley for a hundred years. Dad insisted that all of the architects of his era were trained to design new, modern, sleek buildings. So instead, my father decided to hire another neighbor, Jim Hastings, who was a commercial artist and a bit of a history buff. Since my father had been selling real estate in Napa Valley for a few years he knew all the historic buildings he wanted Jim to amalgamize into this dream lodge. Soon the dining room table at the family home had been taken over, strewn with elevations (drawings of the exteriors) and floor plans. My father would bribe us all with free food and wine if we would come over and critique his creations. The passion he displayed for this new project was undeniable so I soon found that I had quit my job as a local pizza maker (they certainly didn't call us chefs back in those days) and instead could be found in a leaky, dark, dirt-floor barn breathing in stinky (and probably quite hazardous) chemical fumes from the stripping goop I was using to bubble and peel old paint and varnishes from piles of antique beds, dressers and armoires my father had already collected long before he had rounded up the money and permits he would need to build the Inn. Spending the winter wearing rubber gloves, a little surgeon's mask and toxic chemicals, all alone in a cold drafty barn out in the middle of nowhere soon made me long for the warm pizza ovens.
The spring of 1974 arrived and my father had another brilliant idea. He had been out shopping for the rocks we would need to face the stone tower that he and Jim Hastings had designed and was now deciding that we should face the whole first floor. It appeared to be way too expensive to buy the stone he would need, and, after all, it was just rock! Rock is everywhere in the Napa Valley. So he asked me to find a buddy to head out and pick up some rock; literally, his instructions were to drive around the roads in his old pickup truck and when you see a rock or two, jump out and throw 'em in the back! So we did. My best buddy Bill and I spent probably a month cruising the backroads of the Upper Napa Valley "stoning." We drove around shirtless, with windows rolled down and long hair flowing, wearing beat-up jeans. Sometimes we would stop by the side of the road for half an hour, maybe longer, looking for rocks. Stoning was fun, but pretty soon my father figured out that free rocks were not so free (in fact the running joke among the crew was that my father would spend ten bucks to save one every time).