Rosé All Day: Your Guide to the Wine of Summer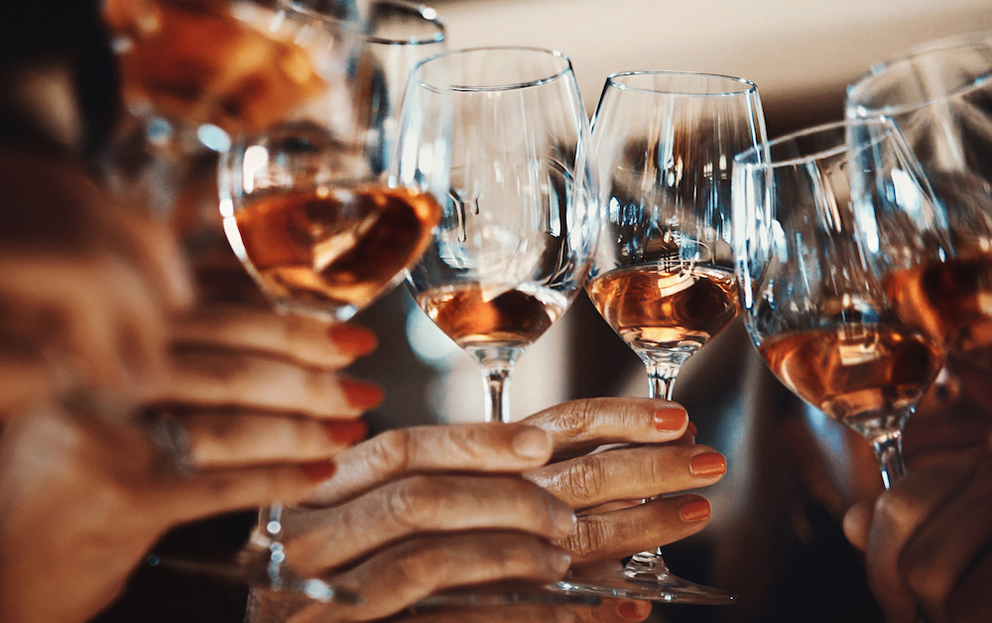 There is something about the sunny days and warm weather that makes us reach for a crisp glass of refreshing rosé to satisfy our summer taste buds. The growing popularity of rosé wine is a welcomed trend, although it leaves us wondering, how much do we really know about this pink drink? Here's a guide to this buzzworthy varietal, as well as where to sip the most popular wine country rosés of the season.
No, rosé isn't made from a rare pink grape or even a combination of red and white grapes. The rosy color comes from the short amount of time the grape juice comes into contact with the skins of the grapes. In fact, this is how all wines obtain their color. Red grapes are juiced and then allowed to soak with the skins for a short period of time, until the vibrant blush color comes forward.
Besides the soft color, rosé wines stand out for their crisp freshness, bright aromas, and fruit-forward profile. Just like the spectrum of red and white wines, rosé has a wide variety of aromas and flavors. Notes of strawberry, watermelon, cherry, and citrus are most common.
Ready for some rosé? Here are three local rosé wines to check out this summer on your wine country vacation.
This drinkable rosé made the Food and Wine list of 30 rosés to drink this summer. Made from old vine Mourvedre and Grenache grapes, this rosé has delicate notes of raspberries, peaches, and apple blossoms. Don't let the light color of this wine fool you, the savory Mourvedre and spicy notes of Grenache give this rosé unexpected depth. To try this bold and refreshing wine, visit Bedrock's new tasting room at the historic Joseph Hooker House in downtown Sonoma.
2017 Sylviane Rosé, Ehlers Estate, St. Helena
Featured on Vine Pair's 25 Best Rosé Wines of 2018, this old-world rosé has aromas of watermelon, raspberry, and cotton candy with orange sorbet and fresh red cherries. Made from Napa Cabernet Franc grapes, this crisp and dry wine has a sparkling acidity and a lingering lemon-berry finish. Although complex, this wine is incredibly balanced. Enjoy a taste of this rosé in Ehler's cozy 1886-era stone barn.
2017 Pinot Meunier Rosé, Draxton Wines, Healdsburg
Recently taking home top honors and Best of Show at the 2018 Experience Rosé Competition, Draxton's Pinot Meunier Rosé beat out 317 other entries of domestic and international rosé wines. This drinkable wine has alluring tea rose notes balanced with cherry pie and fresh strawberries, the perfect wine for sipping at a backyard barbecue.
--
Are you planning a Napa Valley getaway to taste this summer's latest rosé releases? Book your stay with the Wine Country Inn & Cottages, located only minutes from Ehlers Estate in the charming wine town of St. Helena. Guests will also have the opportunity to taste the new 2017 Rosé from Medlock Ames, a refreshing Merlot rosé with aromas of sweet tart and vanilla, and notes of strawberry and holiday spice.