How to Pack the Perfect Picnic for a Day of Wine Tasting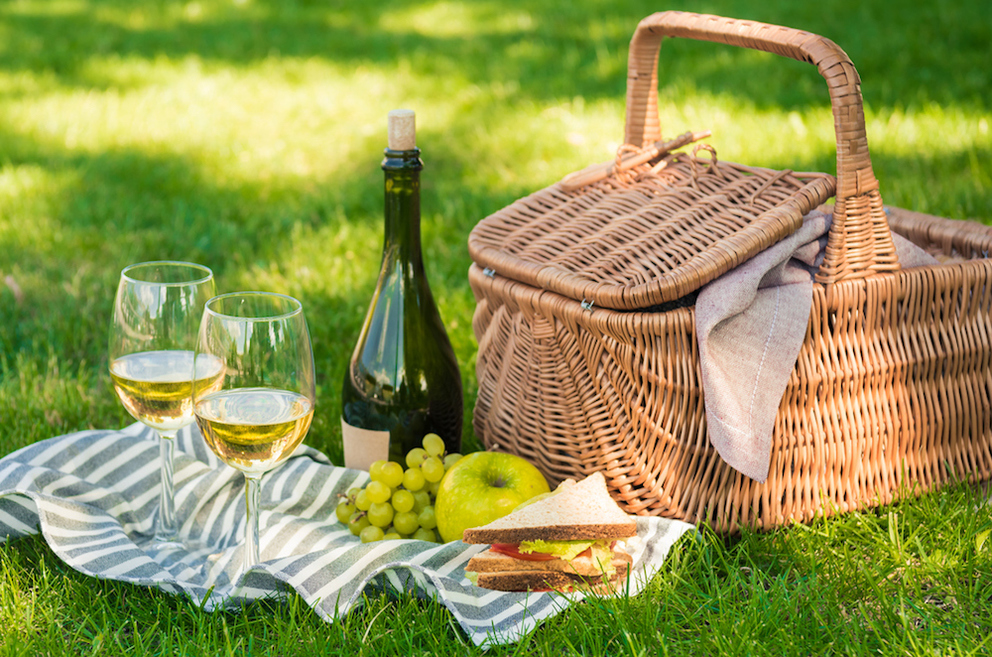 Skip the restaurant and bring your own food on a day of wine tasting in the Napa Valley. Wine pairs perfectly with simple picnic fare. Mix and match the Napa Valley's culinary delights to create your own picnic to enjoy in the vineyards. Let us help guide you in the right direction.
The Basics
To begin curating the perfect picnic, make sure to pack the essentials – a picnic sack, utensils, serveware, plates, and napkins. If there isn't a picnic table at your destination, you may be dining on the grass. Opt for a thick blanket (which can also double as a tablecloth!). Don't try to balance wine glasses on the soft ground, bring a heavy duty cutting board or serving tray to support your glass. Don't forget a corkscrew and glasses, if needed.
Plan ahead. Picking up some cheese? Throw in a cutting board and spreader. Dipping fresh baked bread into locally pressed olive oil? Grab a small saucer. Think ahead to avoid lugging around unnecessary serving items.
Plan a Menu
Save the fine dining for dinner and keep your picnic menu casual. Think simple sandwiches and salads for your main course. Grain salads such as couscous and quinoa are also excellent options. A pita filled with sliced apples, honey mustard, and melted Brie is simple and delicious. The Napa Valley has an abundance of locally made cheeses and farm fresh produce for you to experiment with.
Grab savory sides like olives, tapenades, and artichoke hearts. Enjoy these with a fresh crusty baguette. Take turns ripping a loaf of bread to dip in olive oil or vinegar, or spread cheese on top with fresh jam for the perfect amount of sweetness. Cheese and wine may be the greatest pairing in history, so go all out with the local aged, soft, and firm cheeses available.
Go nuts (literally) with dessert. Try nut cookies or gourmet sweet granola bars. Many varieties of nuts grow in California and pair excellent with wine. The valley's bounty of fresh seasonal fruit is always a nice dessert addition. Enjoy cherries in June, an assortment of berries in the summer months, figs in late summer, and persimmons and pomegranates in the fall and winter.
Let's Eat!
Many wineries let you enjoy a picnic al fresco on their grounds, with the purchase of a bottle of their estate wine. Nichelini Family Winery (the oldest family-owned winery in the Napa Valley!) is one of them. Also pay a visit to Bennett Lane Winery in nearby Calistoga to dine in their lush garden with the purchase of two bottles of their estate wines. Their intimate patio has table and chairs set up with umbrellas to shield you from the sun. Picnic among their blooming flowers on a beautiful day.
Keep it super simple and visit a winery with deli items readily available. V. Sattui Winery has a gourmet artisanal food marketplace complete with a cheese, salami, and deli counter. Simply gather your picnic items on site and bring them out to their lush picnic grounds. Sit under shady trees and wave to travelers on the Napa Valley Wine Train.
If you opt for a picnic at a local park, grab a bottle of your choice. Check out our local Wine Bar directory for tips on where to pick up the perfect bottle of vino.
Let the Wine Country Inn Help You Get Started
The Wine Country Inn aims to make your Napa Valley vacation as relaxing as possible. Our limited Wine Country Picnic Package does just that. Enjoy a freshly prepared picnic lunch for two from the iconic Oakville Grocery.
Since 1881, the historic Oakville Grocery has attracted locals and visitors with their curated selection of artisanal goods from farmers and other local purveyors in wine country. Dine on gourmet deli items from California's oldest continually operating grocery store. Let our friendly staff guide you to the best wineries and local parks to enjoy your picnic lunch and complementary split of Schramsberg Vineyards sparkling wine for two. For more information and to book your wine country picnic, visit the Wine Country Inn. Your picnic in the Napa Valley awaits.