Napa Valley Balloon Rides Offer Breathtaking Views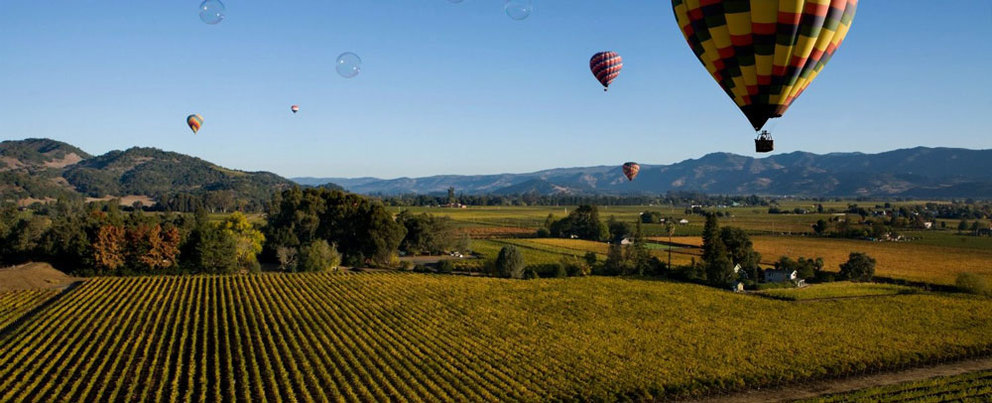 There are several incredible ways to experience the beauty of Napa Valley. Some of our favorites include a self-guided leisurely drive, an excursion aboard the Napa Valley Wine Train and Napa Valley balloon rides. Each option allows you to take in the incredible view, but Napa Valley hot air balloon rides, taken in the early morning when the rest of region is just waking up, certainly offer a different perspective of the rolling valleys and majestic mountains.
Sunrise flight
Several local companies offer Napa Valley balloon rides. No matter which one you choose, your incredible experience will begin very early. Plan to meet your FAA-certified pilot, crew and other guests before sunrise.
The early morning start is required because the best time for flying a hot air balloon is in the morning, just after sunrise when the winds are calmest and temperatures the coolest.
Flights usually last about an hour, however, it can vary depending on the wind speed. Your altitude will vary, as well. Average altitudes vary between 1,000 and 3,000 feet above the ground. Your entire hot air balloon adventure will last about 3.5-4 hours, which includes pre-flight instructions, the flight itself and a post-flight celebration with a bit of bubbly.
Aside from the periodic rush of the hot air into the balloon, your ride will be quite peaceful as your soar effortlessly over the mountains and valleys.
Napa Valley balloon ride tips
Napa Valley balloon rides are popular, therefore reservations are recommended. Most travelers will choose to reserve a spot on a semi-private ride, where you share a basket and balloon with a group. Celebrating a special occasion? Consider a private flight for two (plus the pilot). Traveling with a large group? Contact the tour companies for group rates.
Since your day begins quite early, we recommend dressing in layers. That will allow you to stay warm when it's cool and peel off the layers as the sun rises. You'll also be climbing in and out of a large basket, so be sure to wear comfortable clothing and shoes.
The view on Napa Valley Balloon rides are incredible, so be sure to take your camera. Some companies have cameras mounted on the balloon and can provide you with pictures from your trip.
While most companies are able to fly about 200 days out of the year, weather conditions can impact your flight. Stay in close contact with your tour company ahead of your flight so you'll be advised of a change in plans.
To help take some of the guesswork out of your planning, we've listed a few companies below you may consider when booking your Napa Valley balloon rides.
Napa Valley Aloft Balloon Rides
Napa Valley Aloft
is a family owned and operated company that has been offering hot air balloon rides over Napa Valley for more than 30 years. Napa Valley Aloft's balloon pilots include founder Jay Kimball and his children, Gretchen, Jayson and Jared; as well as Jim Marshall, who has been flying for more than 35 years. Napa Valley Aloft's balloon baskets accommodate up to 14 passengers. Please contact Napa Valley Aloft Balloon Rides for packages, pricing and additional details.
Balloons Above the Valley
When balloon aviator Bob Barbarick began flying over Napa Valley in the 1970s, there were very few vineyards. That's hard to imagine flying over the region now, as vineyards, with their impeccable rows of grapevines are one of the main attractions. Barbarick leads his crew of 8 pilots in flying some of the biggest hot air balloons in the U.S. Balloons Above the Valley baskets can accommodate up to 20 passengers. For additional information, as well as pricing and details, please contact
Balloons Above the Valley
.
Napa Valley Balloons
Napa Valley Balloons
began in 1978 when pilot and founder Don Surplus took his first balloon ride to celebrate his birthday. He was hooked instantly. He purchased a balloon and started a flying club with several friends. That endeavor soon evolved into a company that offered tours so others could experience the delight of a hot air balloon ride. Napa Valley Balloons accommodate up to 20 passengers. Please contact Napa Valley Balloons for pricing, packages and additional details.
Wine Country Inn & Cottages
After your exciting morning soaring above Napa Valley, come back to the
Wine Country Inn & Cottages
, where you can spend the rest of your day relaxing poolside, nap in your comfortable,
luxurious accommodations
or explore the grounds. Surrounded by vineyards and secluded at the end of a country lane, The Wine Country Inn & Cottages has evolved from the Napa Valley's very first bed and breakfast inn into a magnificent antique-filled boutique hotel.
Our award-winning country inn, along with our proximity to some of the Napa Valley's finest wineries (50 within five miles!) and restaurants (15 within 5 miles, including one Michelin 3-Star winner and two Michelin 1-Star winners) makes the Wine Country Inn & Cottages a perfect home base for an unforgettable Wine Country vacation or weekend getaway.
Don't forget to download our free Vacation Guide for a list of exciting things to do and see during your visit.