My Start at Wine Country Inn & Cottages: A New Excerpt from My Book
September 1st, 2017
Arts & Culture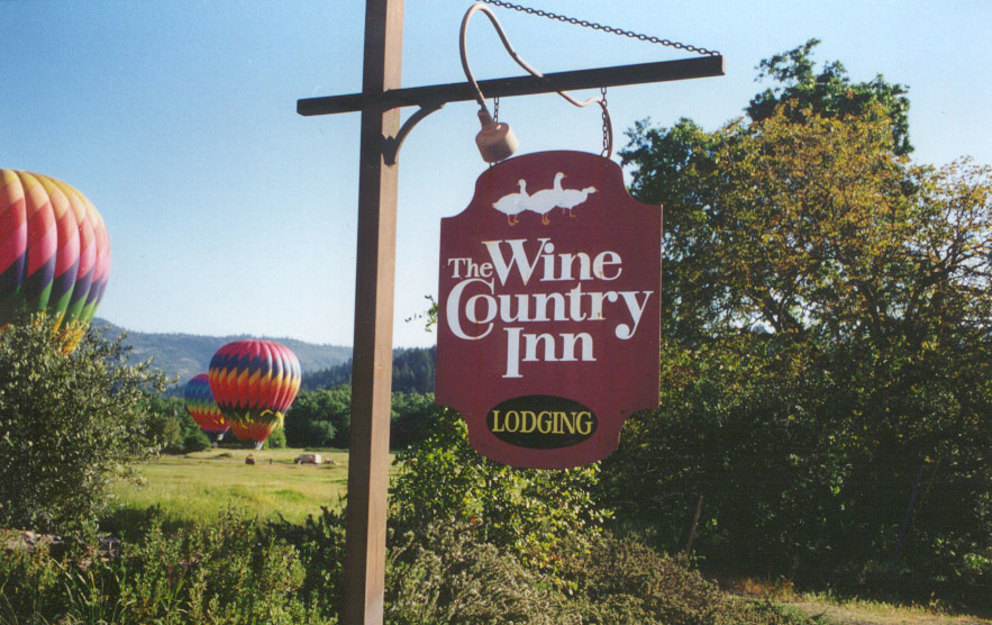 A few days before we opened the Inn we were making final preparations and my father casually asked me what I was planning to do once the Inn was completed. I don't remember if I had thought that far in advance, but I had recently gotten married, had a little apartment and most likely would need a continuing income. I remember shrugging and heading outside with the load of debris I was carrying, needing to unload it into the construction dumpster outside. It was probably 105 degrees that day and though hardened to the weather at that point when I came back inside my father's casual comment, "Why don't you help me run the place for a while?" struck a chord. So, I guess I was the first employee of my father's new operation.
We didn't have a clue what we were doing when we first hung out our shingle. My father regularly shared his vision of having his feet up on the desk, leaning back in a swivel wood-armed chair, maybe chatting with a potential guest on the phone (the single-line rotary-dial phone) and tossing an arriving couple a key while pointing them off to a room. That was not exactly the way it turned out. First of all, along with not envisioning an employee bathroom, I don't know that my father had actually designed a front desk into the plans. I seem to remember a rather frantic addition to the corner of the kitchen that my brother miraculously created in short order out of some of the barn wood we had left over from the rooms. And compared to the work my father continued to pour into the Inn if anything it was me who got to put my feet up on the desk. I still have this very strong visual of me working the phones, taking reservations and looking out at my 58-year-old father, pick in hand, digging irrigation lines for the landscaping sprinkler system, sweat pouring off his head and drenching his uniform – a seersucker shirt and khaki trousers – and loving it. There were many a time when I would try to shoo him outside after he had come in for a drink of water because he was stinking the place up for the guests.
Now open, with guests flooding in, with paper and pencil we slowly (and with many mistakes) developed the tools to rent 14 individually decorated rooms, each quite unique from the next. We soon learned that when you describe a room in great detail to a potential guest and then don't take copious notes about what you promised AND be able to reference those notes at a moment's notice, you are likely to have some tense moments with your new best friends the Wilsons, or the Proctors or the Williams. You also soon learn the most intimate details about these folks that you simply never wanted to know: "I have never taken a shower in my life and I don't intend to start now," sticks out in my mind when an older female guest stormed downstairs after I had checked her into a room. The room only had a shower when she insisted she had been promised a bathtub. Or the gentleman who had insisted he had been assured he could reserve a room for just a couple hours and be charged half-price.
One of my favorite stories involved a very timid Japanese woman who came to the front desk. She wouldn't talk to me but fortunately we had a female at the front desk that day. "I think my husband is watching me," she murmured. When all she got was a puzzled look she tried again, "I think my husband is spying on me when, you know– when I am sitting – in the bathroom." As I think I mentioned, when building the Inn we had gleaned some beautiful wooden doors from an old house we had torn down. The doors needed new knobs, but we couldn't replace the old mortis locks that had been below the knobs and since we were just using them for bathroom doors in rooms that were designed for couples none of us even imagined there would be an issue. The holes through the doors were very small and as I say they were beautiful hundred-year-old wood doors, nothing we could have bought. My desk clerk was truly at a loss, she couldn't even grasp what the woman was talking about, but sure enough when the housekeepers went to clean the room the next day that tiny hole was crammed full of Kleenex.