Is it Worth Visiting Castello di Amorosa Winery?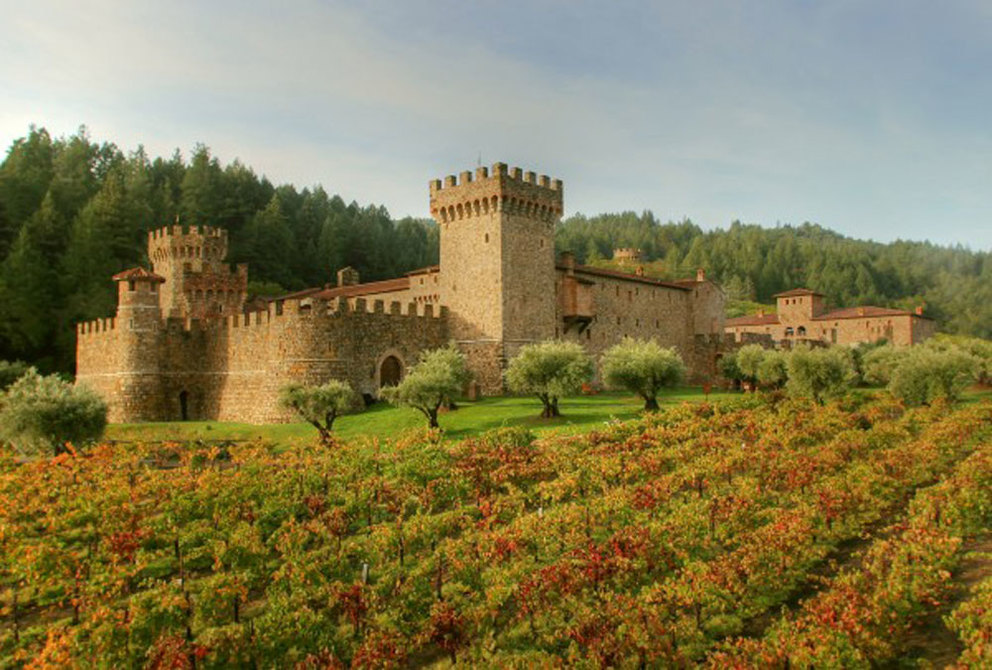 Castello di Amorosa is not just a highly acclaimed winery nestled in the scenic rolling hills of Calistoga, California. It's also a destination that offers an authentic Old World Italian experience without ever having to leave Napa Valley. Open 364 days a year, Castello di Amorosa winery visitors have the opportunity to enjoy tours, tastings, history, special events and more, all while taking in the breathtaking views that surround it.
For all our favorite things to do in Calistoga, including Castello di Amorosa, download our free Napa Valley Travel Guide!
The Building of a Medieval Castle
Castello di Amorosa
sits on 170 acres in the beautiful Napa Valley. It was the dream of Dario Sattui, a San Francisco native who grew up with an appreciation for the wine business that turned into a passion. His grandfather founded
V. Sattui Winery
in St. Helena in 1885, an operation Dario runs today.
When Dario first bought the Calistoga property, he thought he would simply replant historic vineyards on the rolling hills. However, his interest in Italian medieval architecture began to take hold and shape what this new venture would become: a winery with an authentic medieval castle setting where visitors could taste remarkable wines and feel as if they've been transported to another time and place.
After consulting with experts in the field of medieval architecture, and 15 years of construction, Dario's dream came to fruition. Castello di Amorosa, a 121,000-square-foot authentically styled 13th century Tuscan castle and winery, opened in 2007.
Castle tours are a must, and you may choose to explore it yourself or take a guided tour to learn all the details. Either way, there is so much to see; you'll want to be sure you take note of several impressive features including:
1,000-pound hand-hewn doors from Italy.
The Great Hall with a coffered ceiling (22-feet high) featuring hand-painted frescoes and a 500-year-old fireplace.
The 12,000-square-foot Grand Barrel room with 40 Roman Cross vaulted brick ceilings.
Ironwork hand-forged by Italian artists over an open flame.
Guided Tours and Tastings
There are five different experiences available at the Castello di Amorosa winery. You'll want to know that delicious chocolate, cheese or charcuterie pairings are available as add-ons to any tour, and reservations are recommended for all guided and specialty tour experiences.
General Admission: Explore the winery at your leisure. You'll have access to two levels and enjoy a tasting of 5 premium wines or 6 reserve wines in the main tasting room. General admission includes a map of the winery, wine tasting, and access to the Front Ramparts, Chapel, Great Hall, Courtyard, Stables, Main Tasting Bar, and Knight's Hall.
Guided Tour and Premium Wine Tasting: Learn all about the history of the Castello, the vineyards and the wine from a knowledgeable guide on this 1 ¾ hour tour. You'll also enjoy a barrel tasting and a complimentary tasting of the current releases.
Guided Tour and Reserve Wine Tasting: Includes a 60-minute tour and 45 minutes to enjoy a private tasting of six wines including low production, high-end reserve wines.
Cheese & Wine Pairing Tour: This two-hour event includes a guided tour of the Castello and an intimate tasting in the Il Passito Room to enjoy a selection of local cheeses paired with their Italian-style wines.
Royal Food & Wine Pairing Tour: This two-hour event includes a tour of the castle and winery followed by a selection of hand-crafted Italian-style wines paired with a variety of artfully prepared food selections. Enjoy the pairing in the elegantly appointed Royal Apartment overlooking the valley. This two-hour experience is guided by Sommelier Mary Davidek and is by appointment only.
The Wine
Of course, your wine tasting experience at Castello di Amorosa will include primarily Italian-style wines. However, other varietals are available. A selection of their wines includes Pinot Grigio, Pinot Bianco, Chardonnay, Gewürztraminer, Rosato di Sangiovese, Red Table Blend, Sangiovese, Pinot Nero, Barbera, Primitivo, Merlot, "Super Tuscan" Blend, Cabernet Sauvignon, Muscato Canelli, Brachetto, and Late Harvest Gewürztraminer.
When to Visit
Castello di Amorosa is located in Calistoga, CA, just a 10-minute drive from the Wine Country Inn & Cottages in St. Helena. It is open 9:30 a.m.-6 p.m. seven days a week year-round. The only exceptions are that it closes early on Halloween, Thanksgiving Day and Christmas Eve. It is closed Christmas Day. Since the castle is open 364 days a year, it makes it a great destination anytime you visit.
You may want to check their events calendar for festivities held throughout the year, including the annual Halloween Ball, New Year's Eve Masquerade Ball, and Harvest Celebration and Stomp, as well as candlelight dinners in the Great Hall for members of the wine club.
Where to Stay
If you'd like more information about
things to do in Napa Valley
, including
Napa Valley Wine Country Tours
, feel free to download our free
Napa, California Vacation Guide
. Within this useful guide, you'll find suggestions for dining, excursions, wine tastings and much more. Whether you're looking for adventure, a peaceful weekend for some "me time," or a
romantic weekend in Napa Valley
with the one you love, let the
Wine Country Inn & Cottages
serve as your home base during your stay. Relax in one of our
luxurious rooms or cottages
and enjoy a fresh, gourmet breakfast each morning.
If you're planning a last-minute trip, don't forget to check availability online!