Here is Why You Need to Eat at Napa Valley Bistro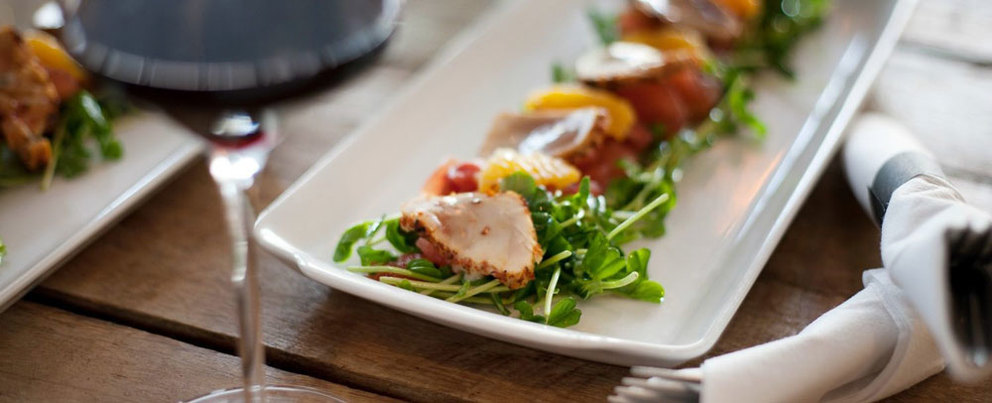 When looking for places to dine during your stay at The Wine Country Inn & Cottages, explore all the various Napa Valley options. Whether you're looking for a casual lunch or classy dinner, there are plenty of restaurants to choose from. You will find great brunch, lunch, and dinner options at the Napa Valley Bistro, which offers a wonderful atmosphere as well as local food and wonderful wine selections. Here are just a few reasons you should eat at the Napa Valley Bistro during your Wine Country vacation!
About Napa Valley Bistro
The Napa Valley Bistro is known for its seasonal cuisine with a twist of modern fare among a casual setting. At this American restaurant, you will find creative cocktails, decadent desserts, and beautifully arranged plates. This hidden gem just off Main Street offers free corkage for your first bottle along with superb, polite service. Indulge your palate for a tasty meal at the Napa Valley Bistro.
Napa Valley Bistro Food
You will find some truly delectable seasonal fare at the Napa Valley Bistro. Start off with some delicious buttermilk pancakes, brioche French toast, or huevos rancheros
for brunch
. For lunch, indulge in a lamb burger with sweet potato fries or some mouthwatering clam chowder. There are also some incredible salad options, such as the Napa chopped salad, Chinese chicken salad, watermelon arugula salad, and Dungeness crab Louie salad.
For your dinner entrees
, choose from pan-seared sea scallops with a potato-cauliflower puree, Kobe flat iron steak with heirloom tomato marmalade and white truffle fries, or the lemon thyme risotto with English peas, asparagus, goat cheese, and fennel. For dessert, follow things up with a warm chocolate fudge cake, organic peach and blueberry crumble, cheese plate, or butterscotch pudding, just to name a few options.
Napa Valley Bistro Drinks
Napa Valley Bistro is known for its creative drinks and great wine collection along with fantastic plates. Enjoy a local craft beer or tap into the cellar with wines by the glass or bottle. You will not be disappointed with the extensive wine list, which includes everything from Chardonnay to Merlot.
During happy hour
, enjoy a variety of beers for just $3 and wines for just $5. You can pair your drinks with garlic fries, beer battered fish tacos, or BBQ pork sliders for just $5 as well!
Stay at The Wine Country Inn & Cottages
After a long day of exploring the vineyards and magnificent natural settings of Napa Valley, a dinner at the Napa Valley Bistro will be much deserved. Indulge in your delicious dinner and then head back to The Wine Country Inn & Cottages for a lovely retreat among the vineyards and mountains. Reserve one of our
luxurious yet charming accommodations
and plan for a romantic getaway or friend retreat. Our
evening wine reception
is a great way to mingle with other guests before going out for your own nighttime adventures. Enjoy a glass before heading to dinner. Then, when you are full and content, settle down in one of our comfortable beds for a wonderful vacation sleep. Then, in the morning, wake up revived and rejuvenated. We will provide a
delicious gourmet breakfast
for each day of your stay. We hope to see you soon! For more to see and do in Napa Valley, download our free vacation guide.