4 Reasons You Should Explore St Helena Wine Center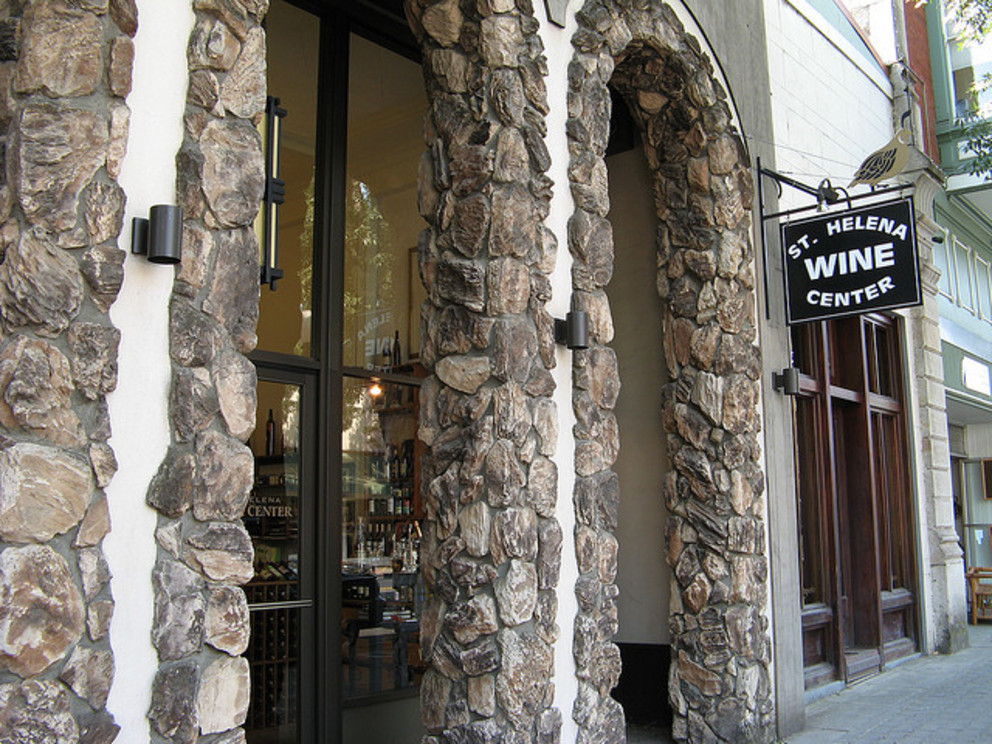 During your stay in Napa Valley at The Wine Country Inn & Cottages, plan to spend a Saturday venturing into St. Helena where you can indulge yourself with a little retail therapy. After all, you are on vacation! After perusing the quaint boutique shops, clothing and antique stores, as well as art galleries and restaurants along Main Street, plan to stop in St. Helena Wine Center to taste a few delicious California wines.
St. Helena Wine Center is both a place you can find a wide selection of wines to purchase, but when you stop in on a Saturday, you can also enjoy a tasting of 3-4 wines selected by the knowledgeable staff.
For all of our favorite things to do in St Helena, be sure to download our free St Helena Vacation Guide.
You might be surprised to know that the St. Helena Wine Center is owned and managed by members of the Beringer family who purchased the shop in 1972 after selling their winery. The knowledge passed down through six generations of Beringers benefits patrons who appreciate the shop for its selection of California wines as well as international wines.
Located right in the center of town, you can't miss the building with its stone arches and welcoming storefront. Enter the shop to find racks of red, white, rose, dessert and fortified wines as well as the charming tasting area.
4 Reasons to Explore St Helena Wine Center
1. Wine, Of Course!
Whether your favorite wine is white, red, rose or perhaps sparkling and whether its origin is Napa Valley or another country, you're sure to find a bottle or two to take home to enjoy. Peruse the large selection, which includes an array of popular and hard-to-find wines and try not to let your mouth water while you make your selections.
2. Gifts
Whether you'd like to send wine for a holiday or "just because," St. Helena Wine Center offers two- and three-bottle gift packs. If the gift recipient also enjoys chocolate, you can add a 12-piece box of Woodhouse Chocolates for an additional $24.
3. Saturday Tastings
The tastings are held in a separate and intimate bar area
The St Helena Wine Center is open 7 days a week. Its hours are 10 a.m. – 5:30 p.m. Sunday through Thursday, and 10 a.m. to 6 p.m. Friday and Saturday. It's located at 1321 Main St. in St. Helena. Please keep in mind, tastings are only held on Saturdays.
4. Other Tastings & Special Events
An array of events are held at St. Helena Wine Center throughout the year, including its annual Sparkling Wine and Champagne Tasting! Held each December, this event promises to be a festive night allowing you to taste hand-selected bottles of Sparkling and Champagne as well as small bites. Visit the shop's website for additional info on the latest events.
Planning Your Trip to Napa Valley
If you're beginning to plan your dream trip to Napa Valley, let the Wine Country Inn & Cottages help point you in the direction with our free
Napa, California Vacation Guide.
Just download the guide and you'll find suggestions for dining, excursions, wine tastings and much more. Whether you're looking for adventure, a peaceful weekend for some "me time," or a
romantic weekend in Napa Valley
with the one you love, let us at the
Wine Country Inn & Cottages
serve as your home base during your stay. Relax in one of our
luxurious rooms or cottages
and enjoy a fresh, gourmet breakfast each morning.
If you're planning a last-minute trip, don't forget to check availability online!
Photo Credit: nishidaryuichi / Flickr