4 of the Best Dog Friendly Wineries in Napa Valley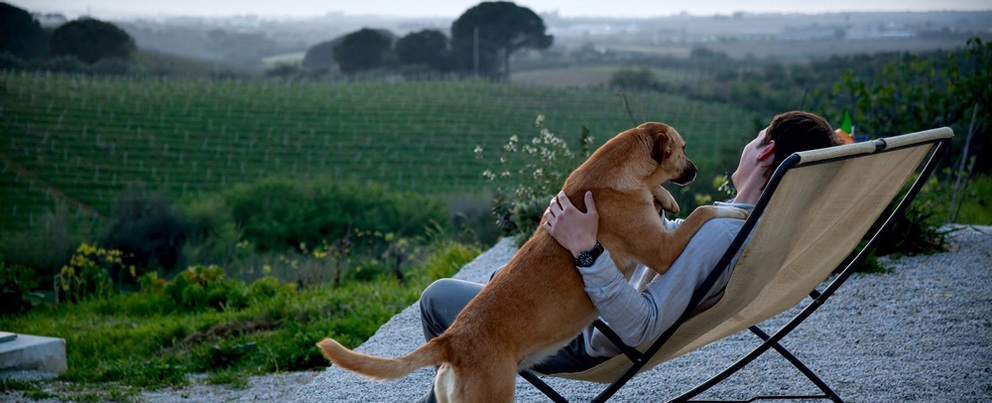 People come to Napa Valley from all over the world to see its stunning landscapes and sample its decadent wines. Visitors can spend hours gazing at the rolling hilly retreats with meadow and forest views as they sip on their favorite bottles bought from that day's tasting. The only thing that could make a trip to Wine Country better would be to be accompanied by man's best friend. Did you know that there are dog friendly wineries in Napa Valley? Even some of our wine tasting partners let you bring your furry friend!
Of course, this list is not exhaustive. When you stay with us at The Wine Country Inn & Cottages , our knowledgeable staff can help direct you to wonderful wineries that are a great match for your palate. We also offer dog-friendly accommodations that will pamper you as well as your pet!
4 of the Best Dog Friendly Wineries in Napa Valley
Alpha Omega
Alpha Omega is a modern farm-style winery located in the heart of Napa Valley. Surrounded by lush vineyards and mountains, the beauty of this winery is as captivating as its wine. This winery sources its grapes from different terrains all over the Valley to create unique, balanced, complex wines. The tasting room is open daily from 10- 6 o'clock, and private tastings are available by appointment. The best part is that your pup can tag along, as long as it is on a leash!
Castello di Amorosa
Castello di Amorosa is a Tuscan-style castle tucked away in the corner of a forest surrounded by its sprawling vineyard. Lavish wine tasting tours will take you throughout the 121,000-square-foot castle and its 107 rooms. You can discover four underground levels and vast caves for barrel aging as well as the expansive vineyards of the 83-acre property. The wine is nothing less than exquisite with its hand-crafted Italian-style flavors, and special tour options create an all-around incredible wine tasting experience. Your four-legged friend can't join you in the tasting room or gift shop, but you're both welcome on self-guided tours and on the spacious grounds outside the castle!
Honig Vineyard & Winery
Honig Vineyard & Winery is a family-run establishment in the center of Napa Valley. Instead on attempting a broad spectrum of wines, they perfect just two: Sauvignon Blancs and Cabernet Sauvignons. Their tastings are by appointment only and are incredibly interesting because they have multiple versions of each wine variety. When you taste each wine side by side, you can notice the differences. Dogs are allowed on leashes in the picnic area and patio!
Brasswood Estates
Brasswood Estates is a one-of-a-kind wine and food destination offering multiple wine tasting experiences along with spectacular dining and shopping. Grab lunch on the patio with your pet, then continue to tour the state-of-the-art winery with 17,000 square feet of caves. Guests may sample Brasswood's award-winning wines in the tasting room open to the public daily from 10 AM. to 5 PM. Group reservations for the more intimate tasting rooms are available by appointment as well as higher level tours.
Looking for Dog Friendly Napa Hotels?
Look no further! Pets are more than welcome at the Wine Country Inn & Cottages . All of our
luxurious guest rooms
have pet-friendly options, just make sure you let us know you are bringing your furry friend when you are booking your stay! As one of the only pet-friendly hotels in Napa Valley, our Wine Country resort also provides additional special pet amenities for those traveling with pets. Pets are offered guest treats and a toy to enjoy upon arrival. The Wine Country Inn & Cottages has doggie dishes available upon request and a list of dog parks and dog friendly wineries in Napa Valley.
Make a reservation
for you and your pet today!