4 of the Best Attractions from San Francisco to St. Helena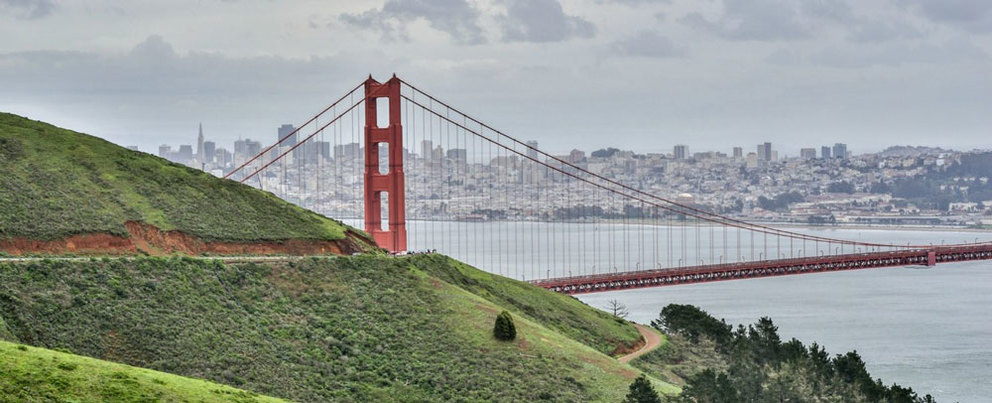 If you plan on making a drive from San Francisco to St. Helena for a sojourn into the Wine Country, do not (repeat do not) take the fastest route.
While you may be tempted to make a beeline to your destination, there are several incredible things to see along the way. And if you don't visit the West Coast very often, you'll want to make time to see landmarks such as the Golden Gate Bridge, the redwoods, the Pacific Coast Highway and more.
For all our favorite things to do from San Francisco to St. Helena, download a free copy of our Napa Valley Vacation Guide!
Your Journey from San Francisco to St. Helena Begins on Route 1
Your journey begins on the famed State Route 1, also known as Highway One and the
Pacific Coast Highway
. This scenic road that runs along most of the California coastline north to south, will be the first leg of your journey. Designed as a scenic route in the 1930s, the road has been built in sections with its southernmost point is in Orange County and its northernmost point is in Mendocino County and spans more than 650 miles in length.
Just as Route 1 twists and turns along the coastline providing breathtaking opportunities to view the Pacific Ocean and coastal towns, it also serves as a main artery in larger towns, such as San Francisco. And it takes you right to (and over) the next major attraction from San Francisco to St. Helena, the Golden Gate Bridge.
The Golden Gate Bridge
Did you know that the
Golden Gate Bridge
has been declared one of the Seven Modern Wonders of the World? As one of the most recognizable and photographed bridges in the world, it certainly deserves such acclaim, and you'll understand why as you approach and then drive over this massive suspension bridge. Built in 1937, the bridge was once the longest suspension bridge main span in the world. An interesting fact to note is that the bridge was originally intended to be black with yellow stripes. The U.S. Navy wanted the bridge painted so that ship captains could see and navigate through the spans. Its orange color was originally just a sealant.
Be sure that you don't choose a high-traffic time to drive over the bridge so you can see as much as you can. The best views are once you get across the bridge. Pull over into one of viewing areas and marvel at this manmade wonder and the gorgeous city of San Francisco behind it. It's truly one of the best things to do in San Francisco.
Muir Woods National Monument
As you continue up Highway One, making your way to St. Helena, CA, we recommend taking a little detour westward to visit the
Muir Woods National Monument
. The monument is in fact 550 acres of lush forest donated to and preserved by the National Park Service. Filled with a variety of native trees including the beloved and giant redwoods, you can stroll along one of the boardwalks or venture onto a trail if you have time to explore. Open 365 days a year, you will be able to visit any time of year you choose to visit, however, you should plan to arrive at the park very early to avoid the crowd.
After stretching your legs for a bit, hop back in the car and begin your trek northeast to continue your journey from San Francisco to St. Helena.
State Route 29 – Gateway to the Wine Country
Your drive will lead you to State Route 29, the primary road that runs through the Napa Valley. You'll know that you've entered wine country the moment you begin seeing the vineyards with their crops all in beautiful rows. Slow down and enjoy the view and be sure to stop along the way in any of the towns along the way. There are delicious
wineries
to enjoy, some of the larger names on the route include Domain Shandon, Robert Mondavi and Grgich Hills, but there are plenty of boutique wineries just waiting to be discovered. If you've worked up a healthy appetite, there are and
delectable restaurants to enjoy
from farm-fresh, sit-down restaurants to quick bites at a roadside stand.
Final Destination: The Wine Country Inn & Cottages
As you plan your trip to St. Helena in Napa Valley, be sure make your final destination The Wine Country Inn & Cottages. We'd love to serve as your home base as you explore all that the valley has to offer. If you have the chance, download our Free Vacation Guide to help you get a sense of all of the incredible things to do and places to go in Napa Valley, as well as the
luxurious accommodations
we have available right here at the Wine Country Inn & Cottages!