Beyond Napa and Sonoma: More California Wine Regions to Explore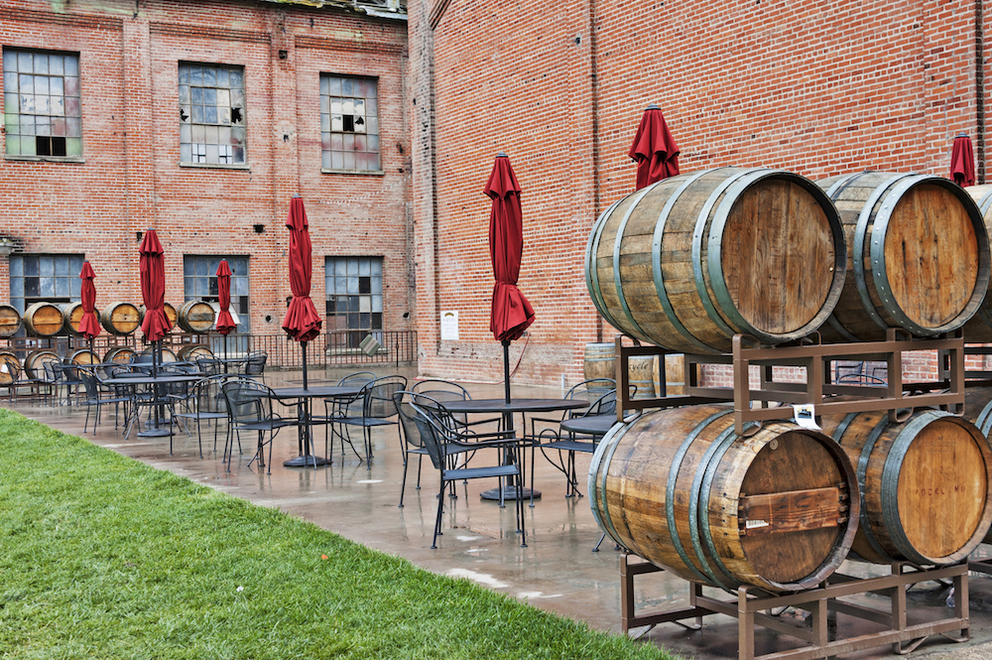 Northern California wine country is as vast and varied as the state itself, with far more wine appellations extending beyond beloved Napa and Sonoma. Only a short drive from Napa Valley, you too can explore these small town wineries and tasting rooms known for their laid-back hospitality and charm. So take the country roads north of the Valley or east along the Sacramento River to reach these wine destinations often overshadowed by nearby Napa Valley. Here are more California wine regions to explore.
Clarksburg
A few miles south of Sacramento you'll find the Clarksburg appellation, a sprawling wine region that spans three counties in Sacramento Valley. The Sacramento River brings a cool San Francisco Bay breeze to the area, keeping the nights cool, with dense clay and loam soils ripe for grape growing. The appellation is home to over 35 varietals, most of which can be found all in one place – the Old Sugar Mill.
What used to be an old beet-sugar refinery built in 1934, the Old Sugar Mill is now home to nearly 15 unique wineries, tasting rooms, and dog-friendly picnic grounds. Check out favorites Heringer Estates and Kirchhoff Family Wines within the Mill. Try the Moscato Bianco from Heringer Estates, the perfect crisp summer libation with aromas of lychee fruit, honeysuckle, and blossom. Kirchhoff Wines has a delectable summertime Verdejo, which is oak barrel aged with aromas of bright peach and strawberry, with a light lemony minerality on the palate.
It is also in Clarksburg you will find Bogle Vineyards, a notable winery with varietals found nationwide.
Lodi
Named Wine Enthusiast's 2015 Wine Region of the Year, Lodi has over 100,000 acres designated for growing grapes, and wineries continue to pop up in this small town 30 miles south of Sacramento. Home to grape growing since at least the 1850s, this appellation is best known for its old vine Zinfandel.
Visit Michael David Winery, perhaps Lodi's most popular destination. Head over to Wine and Roses, which features a restaurant with an impressive wine list of over 70 wines from the Lodi appellation. Try The 1902: Ancient Vine Zinfandel from Michael Klouda Wines, an elegant varietal from vines planted over 110 years ago. Spend the afternoon walking around Lodi's revitalized downtown with its many tasting rooms, cigar bars, independent shops, and restaurants.
Lake County
Just north of Napa County lies Lake County, which is home to four distinct wine appellations - Guenoc Valley, Red Hills, High Valley, and Clear Lake. Each region has its own unique viticulture attributes and distinctive soil type, but all rely on Clear Lake, the largest inland body of water in the state. Before prohibition, Lake County was the largest grape-producing county in California. Although no longer holding that title, the soils and microclimates produce wines of exceptional quality.
A visitor's favorite is Six Sigma Winery, tucked back in the hills of Lower Lake. Situated in vineyards and farmland, their country-style tasting room and grounds is an excellent place to sit and enjoy tasty wine outside surrounded by shady oak trees. Nearby, Gregory Graham Wines is another popular stop, where you can try some of Lake County's signature reds like the Zinfandel and Grenache.
--
These popular wine appellations are all within driving distance of Napa Valley. Are you looking to explore wine country and beyond? Book your Northern California wine tour accommodations with the Wine Country Inn & Cottages, a luxury boutique hotel in the heart of Napa Valley.
Pictured above, Clarksburg, California. This old previous sugar mill has been repurposed as home for many local wineries located in Clarksburg along the Sacramento Delta.