The Best Wine Bars in the Napa Valley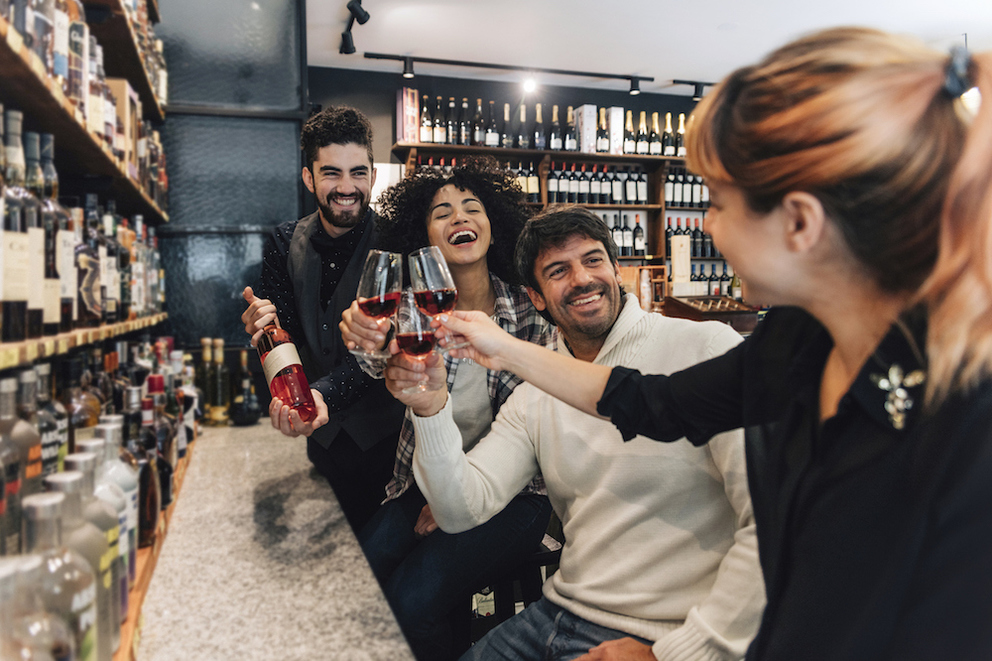 Although paying a visit to a Napa Valley winery is the perfect way to get acquainted with the fruits of a local appellation and winemaking techniques, wine bars provide something a winery can not – variety. And lots of it. Most of the wine bars throughout the Napa Valley specialize in local wine, but you'll also find special labels flown in from all over the globe. Visit these beautifully curated wine bars for the best the Napa Valley (and abroad!) has to offer.
Two Birds One Stone has its own unique program that features exclusive blends available only at this St. Helena eatery and wine bar. The "Wines By" program celebrates the creations of 12 local winemakers, all featured in a wine-by-the-glass rotation that highlights the kitchen's seasonal menu. Try Jason Moulton's 2015 Malbec, with dark blackberry, black plum, and signature lavender and violet aromatics. For something abroad, choose from the Two Birds One Stone eclectic bottle list, featuring wines from France, Italy, Germany, and Austria.
This vintner owned and operated tasting bar is located adjacent to the Oxbow Public Market in downtown Napa. The Wine Thief highlights small family-owned brands, of which most are found only at this chic tasting lounge. Their collection of small production, hand crafted wines have received high scores from world-renowned critics and have taken home awards from prestigious competitions.
Visit this rustic wine lounge on St. Helena's Main Street in the Historic District. Located in the former Bank of St. Helena, The Saint features the best boutique wines from around the world in an intimate, romantic, and sophisticated setting. Try a featured flight that highlights regions and varietals from Napa to Bordeaux and an artisan cheese and charcuterie board. Since partnering with The Saint, Night Wines hosts tastings in the old bank vault. Check out the historical charm of The Saint with a private tasting from Night Wines.
This downtown Napa wine bar, restaurant, wine retail shop, and wine education facility has it all! Presented by Master Sommelier Matt Stamp and Ryan Stetins, Compline Wine Bar has been called "the valley's most exciting and reasonably priced place to sip wine" by Food and Wine Magazine. And at only $10-$40 a bottle, you'll find an excellent selection of hip wine producers, authentic wines, and interesting grape varieties from wine regions across the globe. Reserve your spot to participate in one of their wine courses, like the upcoming World Tour: Santorini, hosted by Matt. The Aegean Isle of Santorini produces some of the world's most authentic styles of white wine. Try eight wines total, including dry wine, oaked and unoaked, sweet Vin Santo, and Assyrtiko, a white Greek wine grape indigenous to the island of Santorini.
Located in the historic Semorile Building in downtown Napa, Bounty Hunter stays true to their motto, 'if it's not great, we don't sell it'. Their 18-page wine list contains a lineup of over 400 highly-allocated wines to purchase, and over 40 available by-the-glass to enjoy with their excellent BBQ. Explore their Holy Grail, a wine case with a selection of some of the rarest wine in the world. Ask your sommelier if you can take a peek at the Grail's legendary California labels and international cellar staples.
At first glance, Yountville's V Wine Cellar may appear to be only a retail shop, but they also feature a wine bar to enjoy wines-by-the-glass and daily private tastings hosted in the cellar (reservations required). Their friendly and knowledgeable staff will direct you to some of the best labels in the valley and beyond. Trust their judgment and opt for one of their Staff Picks, or the featured Wine of the Day. After selecting the perfect bottle, dine at one of Yountville's world-renowned fine dining restaurants, some of which permit outside wine for a corkage fee.
--
Stay with the Wine Country Inn for a complimentary wine reception, held every Friday and Saturday evening. Our featured local vintner will pour their finest varietals while giving you the scoop on their winemaking process and other wine country insights. Book your Napa Valley wine retreat today.