Best of the Best: Wineries in St. Helena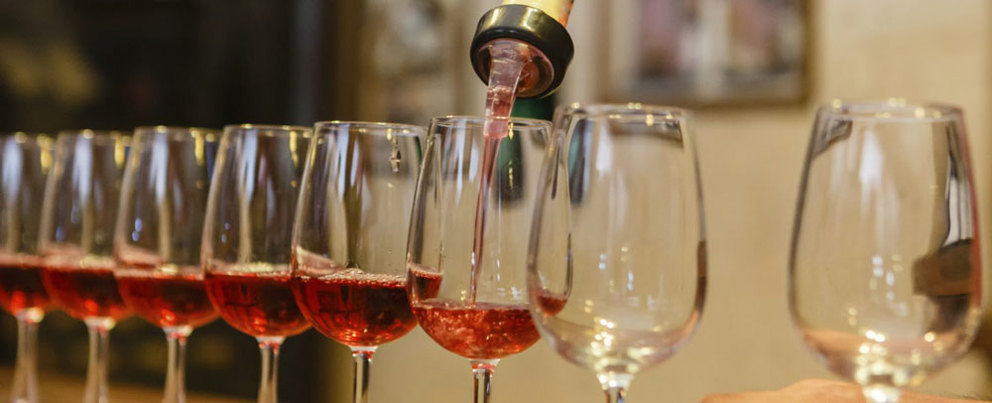 Napa Valley is brimming with incredible wineries from small boutiques labels to names known around the world. The interesting thing is that so many of them are located right here in beautiful St. Helena, CA. If you are planning a visit, you'll want to know which ones to visit first. Consult our compilation of just a few of the best wineries in St. Helena and then set out to find which one best suits your palate!
For a list of all of the best wineries in St. Helena, be sure to download our free St. Helena Travel Guide!
A Look at Several Incredible Wineries in St. Helena
David Fulton Winery
David Fulton Winery was founded in 1860 and is the oldest continuously operated family vineyard in the valley. As a boutique winery, it produces a small number of cases of its historic Petite Sirah annually that it ships to its Wine Club members, as well as to local restaurants and specialty wine shops. It also produces several artisan wines to accompany the Petite Sirah David Fulton Winery has long been known for.
Visit: David Fulton Winery, 825 Fulton Lane, Saint Helena, CA 94574
Rutherford Grove Winery & Vineyards
This beautiful winery was started in 1892 by Albino and Madonna Pestoni after having immigrated from a small village in Switzerland near the Italian border. Rutherford Grove's rich history, which stretches back five generations, is evident in the wines it produces, including Sauvignon Blanc, Rose, Petite Sirah, Merlot and more.
Visit: Rutherford Grove Winery & Vineyards, 1673 St. Helena Highway, St. Helena, CA 94574
Salvestrin Winery
Like so many of these wonderful boutique wineries, Salvestrin begins with the story of immigrants who settled in this region with the dream of replicating the wines from the "Old Country." John and Emma Salvestrin arrived from Italy in the early 1920s and purchased land in St. Helena that would become the Salvestrin Winery, which is still run by family members today. This third-generation winery grows grapes according to organic guidelines to create its handcrafted wines.
Visit: Salvestrin Winery, 397 Main St., St. Helena, CA 94574
Sutter Home
Sutter Home
– This winery's history stretches back to 1874 when a Swiss-Germanimmigrant named John Thomann began a small winery and distillery. The estate, including a beautiful Victorian home, was later purchased by the Leunberger family, who renamed the winery Sutter Home. Later, a third family purchased the estate and winery, the Trincheros, who in the 1970s would create the trendy White Zinfandel wine that became a household name. Today, Sutter Home remains one of the largest family run, independent wineries in the U.S. It produces more than 20 varietals including its famous White Zinfandel. When you visit, be sure to explore the gardens, and of course, the tasting room!
Visit: 277 St. Helena Hwy (Hwy. 29) South St. Helena, CA 94574
Charles Krug
Charles Krug – Peter Mondavi Family
– Founded in 1861 by Prussian immigrant Charles Krug, this winery has had its roots firmly planted in the wine business for many years with great success. In the 1940s, the winery saw new ownership with a member of the Mondavi family. Under the management of the Mondavi family, the winery has flourished and today use state-of-the-art processes to turn the harvests from its more than 850 prime acres in the Napa Valley into the delicious wines that are served today in its award-winning Redwood Cellar and on tables across the country.
Visit: 2800 Main St, St Helena, CA 94574
Beringer Vineyards
Beringer Vineyards
– Beringer Vineyard's story begins in 1884 when Jacob Beringer arrived from Germany and with his brother Frederick established one of the first wineries in Napa. The brothers' first harvest and first crush yielded 40,000 gallons of wine, or 18,000 cases. A visit to this stunning estate should not be missed. Tour the demonstration vineyard to learn more about the family's history and their passion for making wine. Take the Legacy Cave Tour, which allows you to explore historic tunnels and the original winery. And of course, you'll want to visit the Tasting Room, to sample wines that have been famous for more than 100 years.
Visit: 2000 Main Street, St. Helena, CA 94574
Other Incredible Wineries in St. Helena
Visit Our Winery Neighbors
Keep in mind that wineries do charge a tasting fee. The Wine Country Inn & Cottages is so pleased to have formed relationships with the various wineries in the area. Several of our neighbors have given us free tasting passes just for our guests. So even if you already have a few wineries you know you would like to visit, please be sure to check with our Front Desk first, as we might be able to save you a little money.
Wine Country Tours by the Wine Country Inn & Cottages
With more than 600 wineries in Napa Valley, 17 in St. Helena alone, it can be a little overwhelming deciding which wineries to visit. Not to worry,
the Wine Country Inn & Cottages offers Napa Valley Wine Country Tours
so you can sit back, relax and enjoy the experience rather than worry about which vineyards to visit and how to get there.
Planning Your Trip
Before you begin mapping out which wineries you'd like to visit, you'll need to plan your trip to Napa Valley. Be sure to download our
Free Vacation Guide
to help you! It contains very helpful information regarding things to do and places to go, as well as outlines the accommodations we have available right here at the Wine Country Inn & Cottages. Our inn is the perfect home base for an unforgettable Wine Country vacation or weekend getaway. We have evolved from Napa Valley's very first bed and breakfast inn into a magnificent antique-filled boutique hotel surrounded by vineyards and secluded at the end of a country lane. Relax in luxury in one of our
elegant cottages, suites or rooms
and enjoy a delicious breakfast each morning.