All Aboard the Napa Valley Wine Train
September 1st, 2017
Napa Valley Outdoors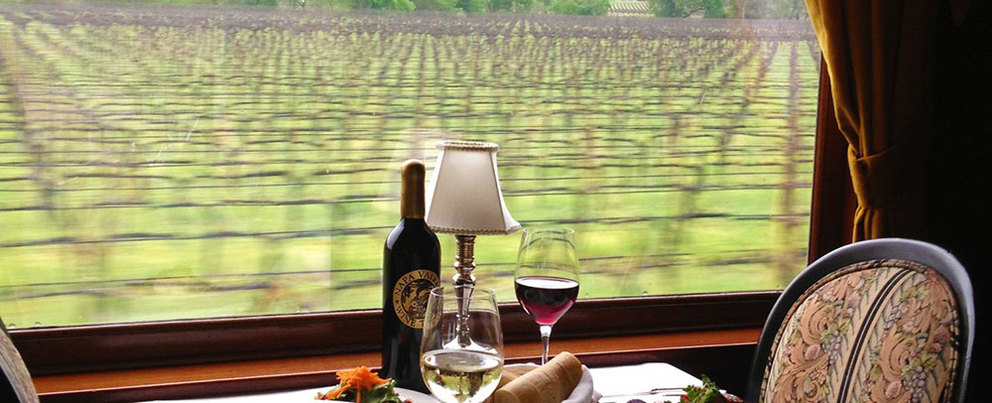 Hop aboard the Napa Valley Wine Train for an experience like no other. Not only will you feel as if you have stepped back in time the moment you set foot on one of the exquisitely restored vintage rail cars, you will feel as if you've embarked on a fine dining adventure, complete with private label wines. All this, as you ride through the beautiful Napa Valley countryside. Whether you choose one of their dining or winery tours, your trip aboard the Napa Valley Wine Train will be one to remember.
Winery Tours Aboard the Napa Valley Wine Train
Grapes grown in the Napa Valley are used to produce incredible wines, and to experience a winery tour and exclusive tasting makes for a wonderful adventure. Daytime and evening tours and tastings are available at select wineries with which the Napa Valley Wine Train has partnered.
Here are five of the winery tours you can experience via the Napa Valley Wine Train:
The Castle Winery Tour – You'll feel as if you've traveled to Italy on this tour to Castello di Amorosa, an authentically-styled Tuscan castle. Enjoy lunch on the train, an exclusive winery tour and sample Castello Amorosa's Italian-style wines.
Valley First Winery Tour – First, travel by motorcoach along the Silverado Trail to visit Raymond Vineyards for a guided tour and tasting. Then board the Napa Valley Wine Train and savor a multi-course gourmet lunch as you return to Napa.
Grgich Hills Winery Tour – Dine on a delicious lunch aboard the train before arriving at Grgich Hills Estate for an exclusive winery tour and tasting of their organic wines made only from grapes grown on the property.
Ambassador Winery Tour – Embark on a scenic journey to explore Charles Krug Winery and Raymond Vineyards. Your journey includes a gourmet lunch, as well as an extensive ride on the train where you'll take in views of the east and west sides of the valley, as well as the Silverado Trail.
Evening Winery Tour – This after-hours journey allows you to experience Grgich Hills Estate in a small-group setting before boarding the Wine Train for an expertly prepared gourmet dinner.
Dining Journeys
If you'd rather visit the wineries on your own and still have a taste of the Napa Valley Wine Train experience, a dining journey might be for you. Choose from a Murder Mystery Tour, a Sunset ride and a Moonlight Escape.
The Train Cars
The Vista Dome is a beautiful two-story 1952 train car that features a kitchen on the first level in which meals are prepared exclusively for guests on the second level. The glass dome provides an incredible unencumbered view of Napa Valley as you dine on your freshly prepared lunch or dinner.
Aboard the Gourmet Express, you will experience a 1917 dining car and a 1915 lounge car, both painstakingly restored to pristine condition. The Silverado Car maintains a more rustic feel adding to the relaxed dining environment and care-free ride through the picturesque Napa Valley.
Where to Board the Napa Valley Wine Train
The Napa Valley Wine Train departs from Napa, just 30 minutes south of the Wine Country Inn & Cottages in St. Helena. It's an easy ride along the Silverado Trail!
Start Planning Your Trip!
As you plan your trip to Wine Country, be sure to download our
Free Vacation Guide
to help you! It contains very helpful information regarding things to do and places to go in Napa Valley, as well as outlines the accommodations we have available right here at the Wine Country Inn & Cottages.
Planning a last-minute weekend getaway? Be sure to check our calendar or contact us for last-minute availability!
Photo Credit: Napa Valley Wine Train